Some of our eczema patients have exhausted every treatment that their previous doctors could offer and still have stubborn symptoms. They are often surprised when herbal treatment based in Traditional Chinese Medicine (TCM) succeeds in making improvements to their condition that they've never experienced before.
Trevor's Situation
"I was at the point of almost giving up hope as my eczema had gotten so bad that it affected most of my body with inflamed red, itchy, and flakey skin" recalls Trevor. "I could not use my hands as they were always cracked and bloody."
"Nothing worked for me 100% – I've tried rounds of topical steroids, oral steroids, non-steroidal ointments, UV light therapy, and finally Dupixent. My eczema would always come back, and most times it would come back 10 times worse. Dupixent was the closest thing to clearing my eczema, however, there were still very noticeable stubborn patches on my neck, hands, and face around my eyes and mouth."
Drugs Only Treat the Symptoms
Trevor's experience is not uncommon. Steroid treatments and prescription drugs can often give symptom relief. But there can be drawbacks to that relief: patients can develop a tolerance for the drug, so when a later flare-up occurs, their eczema can be even worse. Over time, a given drug may eventually have no effect.
Reliance on topical steroid treatments can cause severe reactions if the medication is reduced or stopped. The results are an even more troubling skin syndrome called TSW (topical steroid withdrawal).
In Trevor's case, he found the best relief with Dupixent, but the drug could never completely resolve his eczema, so he still had visible patches of eczema that he wanted to eliminate.
Treating Eczema From the Inside
Trevor continues: "Dr. Olivia said these symptoms are manageable with herbs as they help heal from the inside. After following her suggested regime – drinking herbal formulas twice a day, applying topical herbal hand and face creams, and using a hand care tip sheet, I noticed my skin making improvements."
Herbal medicine takes a different approach by healing internal imbalances that are the root cause of skin conditions. By initiating healing from the inside out, our patients not only find symptom relief but they gradually progress further toward long-lasting results that allow them to experience their natural healthy skin.
Before and After Photos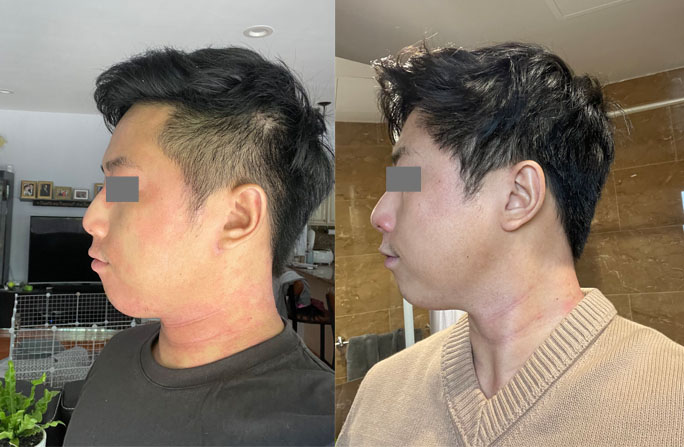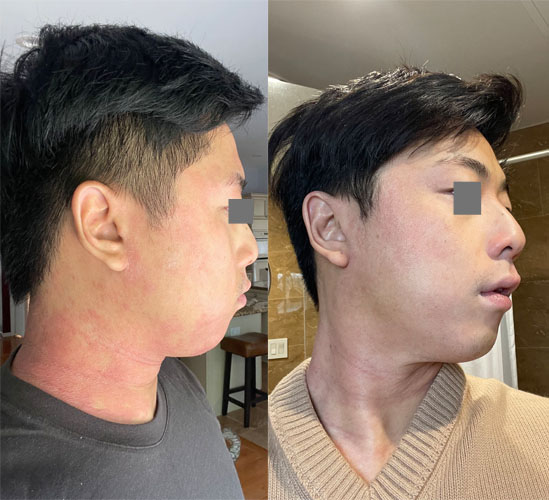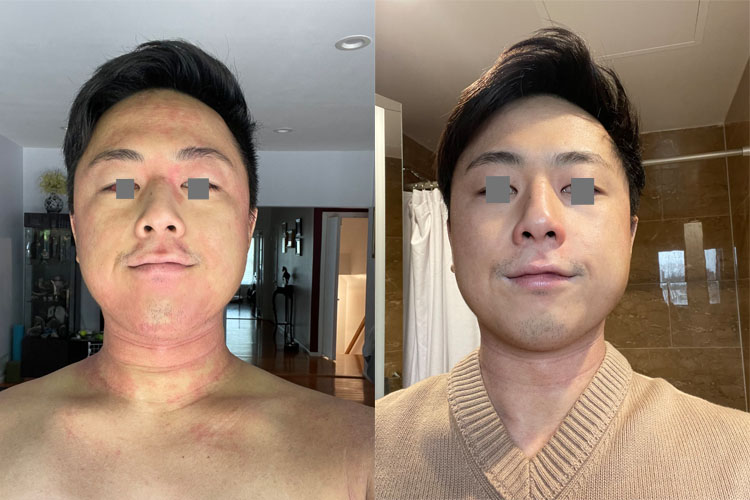 Trevor's Results
"The redness and heat on my face have come down, and the dry flakes are no longer ruling my life. My cracked hands are healed over and now I can use them pretty regularly! I'm still a work in progress but thank you, Dr. Olivia, for healing me and giving me hope that my condition is under my control!"
*Trevor is a pseudonym used to protect the privacy of the patient, who gave us permission to post his story.
---
Need Help with Eczema?
If you know someone who suffers from rosacea, eczema, TSW, or other stubborn skin conditions, here's a video that describes what an initial consultation is like, and provides more information on the herbal medicine approach to dermatology. We can help patients from all over via video conference.
You can also learn more about TSW with our free e-course "Taming TSW."
About the Author
Dr. Olivia Hsu Friedman, LAc, DACM, Cert. TCM Dermatology is the owner of Amethyst Holistic Skin Solutions and treats TSW, eczema, acne, and psoriasis patients via video conferencing using only herbal medicine. Olivia serves on the Advisory Board of LearnSkin, is the Chair of the American Society of Acupuncturists Board of Directors, and is a faculty member of the Chicago Integrative Eczema Support Group sponsored by The National Eczema Association.