Dr. Olivia Hsu Friedman recently received a message from one of our eczema patients:
"I have written this thank you a kazillion times in my mind and heart to you. Today, when I received your newsletter, my heart jumped with excitement!" says Cheryl.* "Now is the time to thank my doctor for her care and knowledge, and for providing a pathway to healing my eczema."
Situation
Cheryl had suffered with eczema for more than 20 years. "I contracted eczema as an adult. When I look at pics of me in the past as a young adult my skin was clear and healthy. Something happened to me in my 40s. I had eczema everywhere; hands, legs, back, neck, and face."
"I had it so bad for months that my sleep was profoundly changed for the worse," says Cheryl. "I was in a downward spiral."
Twenty Years and No Answer
Cheryl's primary care physician led her to a dermatology expert doctor who told her eczema is an autoimmune disease.
The expert told her: "You will need to figure out what triggers it on your own. We don't have a cure. We can only offer you a plethora of salves, pills, and steroids to help you cope."
"That was my life for twenty-plus years," says Cheryl. "I was about to begin the latest offering, Dupixent, an injection. I cringed at the thought of needles and injecting myself."
Finding the Path to Healing
I knew there must be another alternative. One of the best resources I found was the National Eczema Association. There, I found the doctor, Dr. Olivia Hsu Friedman, that led me to the pathway of healing.
"Through her expertise in Chinese herbs I was healed," says Cheryl.
Before and After Photos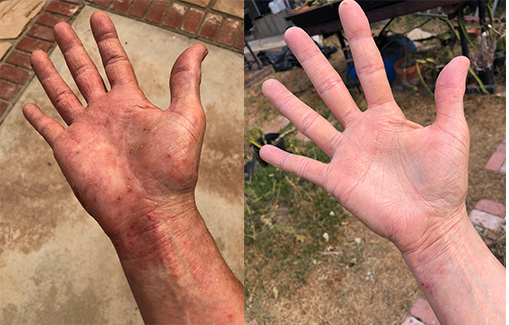 Gratitude for Healthy Skin
"I am so grateful to Dr. Olivia, and grateful to God for helping me find her and my path to healing. It really is wonderful living without eczema. Thank you very much, Dr. Olivia, for taking me on as an eczema patient."

*Cheryl is a pseudonym used to protect the privacy of the patient, who gave us permission to post her story.
---
Need Help with Eczema?
If you know someone who suffers from Eczema or other stubborn skin conditions, here's a video that describes what an initial consultation is like, and provides more information on the herbal medicine approach to dermatology. We can help patients from all over via video conference.
You can also learn more about eczema with our free e-course: "Solving Eczema from the Inside Out."
About the Author
Dr. Olivia Hsu Friedman, LAc, DACM, Cert. TCM Dermatology is the owner of Amethyst Holistic Skin Solutions and treats TSW, eczema, acne, and psoriasis patients via video conferencing using only herbal medicine. Olivia serves on the Advisory Board of LearnSkin, is the Chair of the American Society of Acupuncturists Board of Directors, and is a faculty member of the Chicago Integrative Eczema Support Group sponsored by The National Eczema Association.