Sometimes, when those who suffer from eczema seek relief through topical steroid creams, it backfires. The trouble is that the body can sometimes build an addiction to steroids and when the patient tries to stop or cut back, they develop a secondary condition – Topical Steroid Withdrawal (TSW) – that is often worse than the original skin condition that the steroids were used to treat.
The good news is that Amethyst Holistic Skin Solutions has seen great results with many TSW patients who respond very well to herbal medicine. Here's Maribeth's* story:
Situation
Maribeth reports: "My journey into Chinese medicine has been transformational. When I first started, I did not know what to expect or what this process would entail. All I knew is that I was desperate for relief."
"I had used topical steroids for many years to treat my eczema and decided that I no longer wanted to use them because of the harm they were causing. My body was suffering from topical steroid withdrawal," she says.
"I started out with thin paper skin and horrible flares that prohibited me from doing daily tasks. My skin was constantly itching and flaking. It hurt to take a shower and every workout would bring an itch fest that resulted in open broken skin. My nights consisted of constant itch fests and damaged scabby skin."
After Seven Months
Maribeth is happy and impressed with her progress. "My skin has returned to normal and continues to improve. I can finally shower and workout worry-free."
Before/After Photos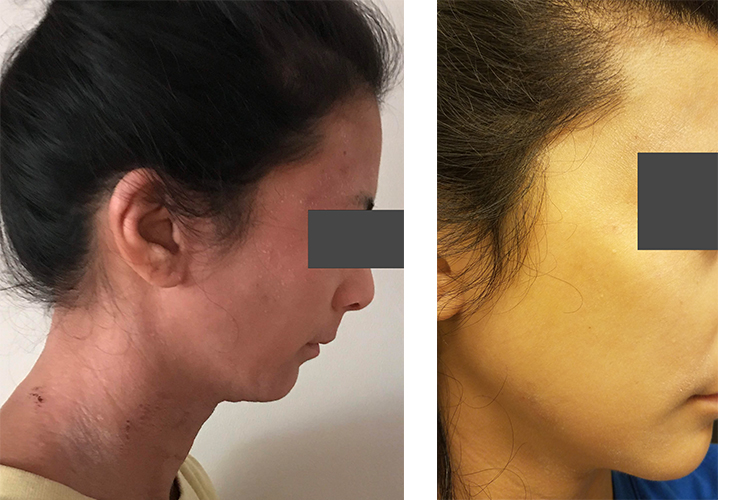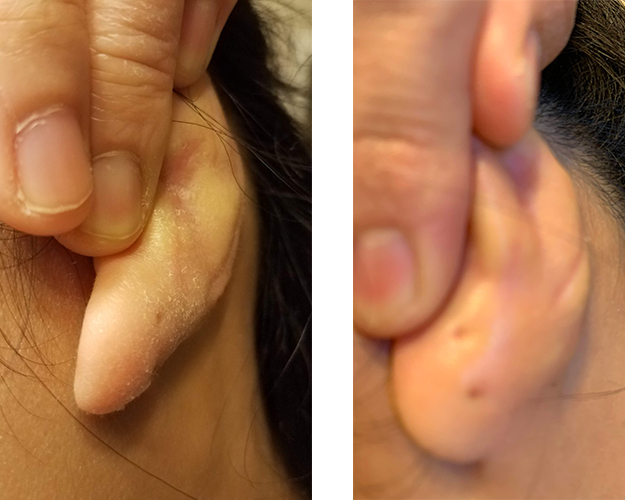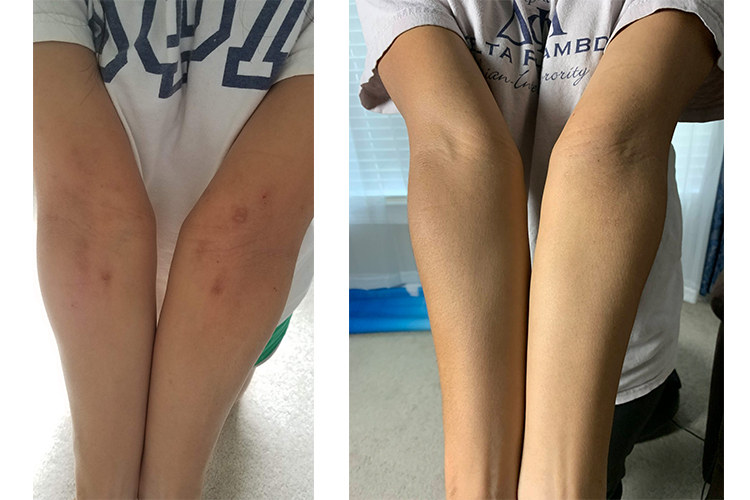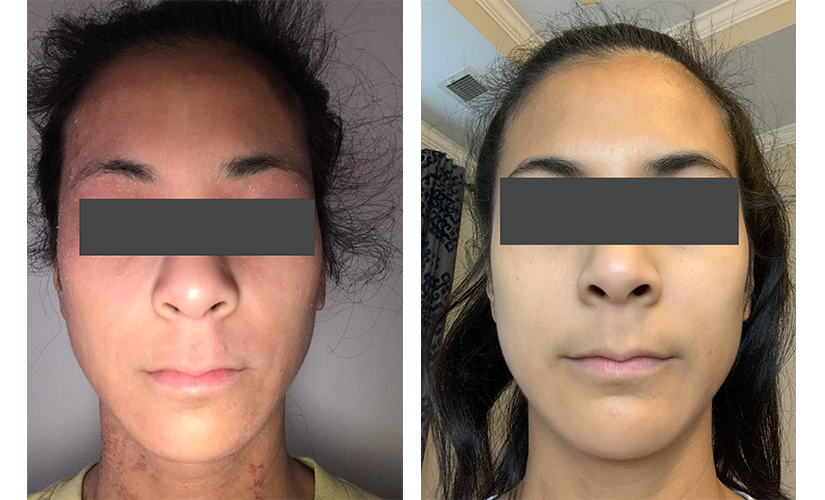 What Maribeth Has to Say
We often warn patients that herbal medicine preparations don't always taste great. Maribeth agrees, but says the small sacrifice is worth it: "The only negative part of the journey are the horrible tasting formulas. However, these horrible tasting formulas have contributed greatly to my improvement."
While taste may be a drawback for some, the best thing about herbal formulas is that unlike many prescription drugs and steroid treatments, there are no unwanted side effects.
Maribeth encourages others with stubborn TSW symptoms: "For those who are unsure and suffering from TSW, I highly recommend that you give Dr. Olivia and Chinese medicine a try."
*Maribeth is a pseudonym used to protect the privacy of the patient, who gave us permission to post her story.
*Everyone's healing timeline depends on their unique combination of contributing factors
---
Need Help with Eczema or TSW?
If you know someone who would like to heal their eczema or TSW, here's a video that describes what an initial consultation is like, and provides more information on the herbal medicine approach to dermatology.
Want to Learn More?
Click Here for our free e-course "Healing Eczema Inside and Out," and/or "Taming TSW." With either course, you will also receive our Amethyst Holistic Skin Solutions Eczema Newsletter. Both will give you interesting information about Traditional Chinese Medicine (TCM) via articles, before/after pictures, and case studies of Amethyst Eczema patients.
About the Author
Dr. Olivia Hsu Friedman, LAc, DACM, Cert. TCM Dermatology is the owner of Amethyst Holistic Skin Solutions and treats eczema and TSW patients via video conferencing using only herbal medicine. Olivia serves on the Advisory Board of LearnSkin, is the Chair of the American Society of Acupuncturists Board of Directors, and is a faculty member of the Chicago Integrative Eczema Support Group sponsored by The National Eczema Association.