What Is It?
Fungal infections include common maladies like athlete's foot, jock itch, yeast infections, and toenail fungus. Fungus grows in warm and humid places and can be found in public showers, pools, baths, and gyms. It loves to grow inside shoes, socks, and other moist, enclosed, warm spaces.
What most people don't know is that fungal skin infections can actually show up anywhere on your body. In addition to burning, pain, and itching, skin can also develop swelling, scales, and blisters due to fungal infections.
There are many over-the-counter preparations you can buy to treat fungal infections, however, they aren't always effective or can take a long time to work. Herbal medicine, on the other hand, is not only effective but has no toxic chemicals.
Our patient, Jack*, had a particularly irritating fungal infection and experienced great results through herbal medicine.
Situation
"I had been struggling with a fungal infection on my leg for months with no relief from over-the-counter medications," says Jack. "Finally, a friend recommended Dr. Olivia at Amethyst, and the rate of results was mind-blowing."
After Two Months
"Within 2 weeks of using the herbal topical, my rash was 50% gone," Jack reports. "Within a month it was 100% gone, and the itching had been 100% relieved."
Our Chinese herbal formulas not only treat symptoms, but they also address systemic health imbalances that cause susceptibility to infection. In Jack's case, as you can see from the photo below of his tongue, after just one month, the dull yellowish coat is gone and his tongue is now a healthy pink.
Before/After Photos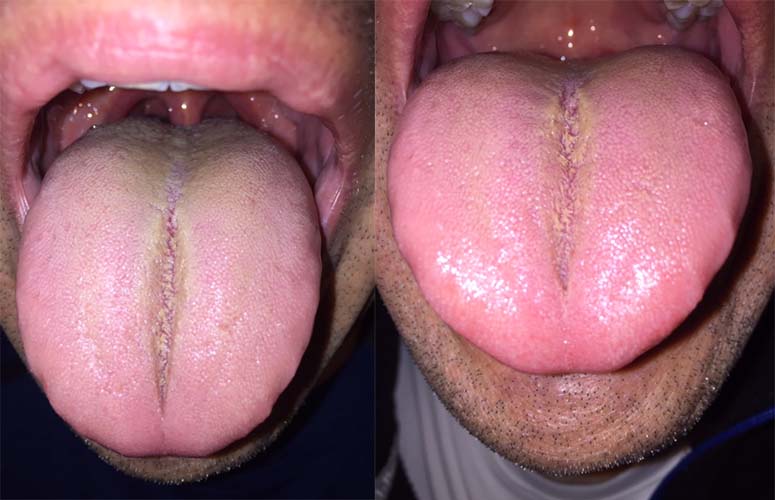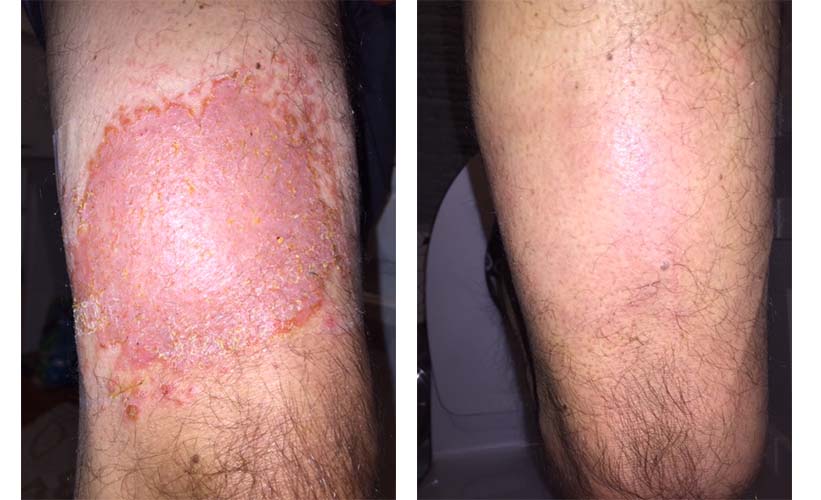 What Jack Has to Say
"Amethyst Holistic Skin Solutions is amazing! I am so grateful to Dr. Olivia, and the work she does in providing dermatological solutions using Eastern medicine."
*Jack is a pseudonym used to protect the privacy of the patient, who gave us permission to post his story.
*Everyone's healing timeline depends on their unique combination of contributing factors
---
Need Help with a Skin Infection?
If you know someone who would like to heal a skin infection, here's a video that describes what an initial consultation is like, and provides more information on the herbal medicine approach to dermatology.
Want to Learn More About Skin Health?
Click here to receive our Amethyst Holistic Skin Solutions Newsletter. You'll receive interesting information about skin health, Traditional Chinese Medicine (TCM) via articles, before/after pictures, and case studies of Amethyst patients.
About the Author
Dr. Olivia Hsu Friedman, LAc, DACM, Cert. TCM Dermatology is the owner of Amethyst Holistic Skin Solutions and treats eczema and TSW patients via video conferencing using only herbal medicine. Olivia serves on the Advisory Board of LearnSkin, is the Chair of the American Society of Acupuncturists Board of Directors, and is a faculty member of the Chicago Integrative Eczema Support Group sponsored by The National Eczema Association.