Situation
After playing outside with his granddaughter, John* noticed red bumps around his left ear. At first, he tried to self treat with essential oils but then, the bumps worsened and spread to his neck, chest, and torso. A dermatologist prescribed an antibiotic, hydrocortisone cream and a moisturizer. His skin improved temporarily but then deteriorated again. John was extremely itchy, tried using poison ivy cream and Benadryl but nothing worked to alleviate the itch or resolve the rash.
Five Weeks
While John does not have a history of eczema, contact dermatitis can affect anyone and particularly those who already have eczema. John and I worked together using a liquid herbal formula and topical. Every week, John saw improvements and felt more relief. Within five weeks, we were able to resolve the skin issues he had lived with for almost a year.
Before/After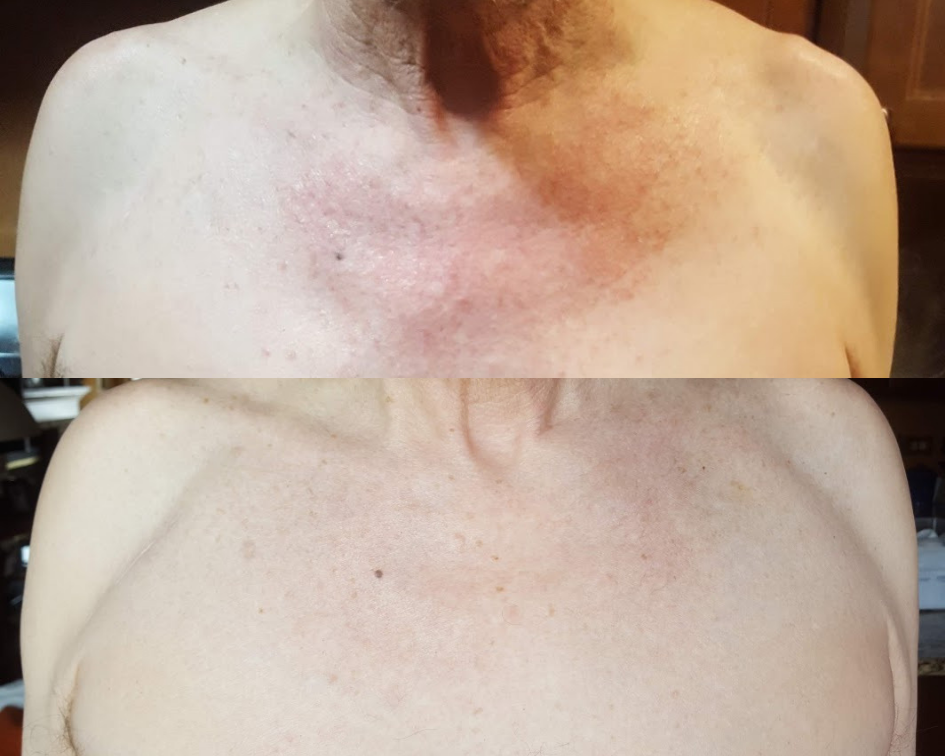 What John Says
"I was referred to Olivia Friedman who looked at pictures of my skin, consulted with me and prescribed liquid herbs and topical herbal lotion. Within a few days, the condition improved. After continued improvement and consultation, Olivia changed the herbal medicine slightly to better focus on the healing process.
I have been and continue to be extremely pleased with the medicinal treatment, the diagnostic skill and the humanistic approach that Olivia has shown during the entire time. She is patient, thorough and adaptable. Without any reservation, I enthusiastically recommend her!!"
*John is a pseudonym to protect his privacy.
---
Need Help?
If you are experiencing contact dermatitis or other skin conditions, and you'd like to learn more about herbal medicine and dermatology and what a first consultation is like, watch this video.
Want to Learn More?
Click HERE to get the Amethyst Holistic Skin Solutions Newsletter. You'll receive interesting information about skin health via articles, before/after pictures, case studies of Amethyst patients, videos, interviews and more. Feel free to share this article with someone who you think may benefit.
About the Author
Olivia Hsu Friedman, LAc, Dipl.OM, DACM, Cert. TCMDerm, is the owner of Amethyst Holistic Skin Solutions and treats Acne, Eczema, Psoriasis, and TSW. Olivia treats patients via video conferencing using only herbal medicine. Olivia is Chair of the Board of Directors of the American Society of Acupuncturists, serves on the Advisory Board of LearnSkin, and is a faculty member of the Chicago Integrative Eczema Group sponsored by the National Eczema Association.