Case Study: Treating Facial Eczema with Herbal Medicine
SITUATION
Janet's* eczema started with a nickel sized red patch under the right corner of her mouth.   Her eczema slowly morphed to include red bumps and other times, it became flaky. Over the course of a few months, eczema spread to other areas of Janet's face including the chin, smile line, and eyes.
On the left side, you can see how Janet looked when she first arrived at Amethyst. While it's not the most severe presentation of eczema, any type of facial skin condition makes most people self-conscious and in some cases, affects their self-esteem and confidence. After all, it's the one area of skin that everyone sees. Janet was eager to get her normal facial skin back.
After working with Amethyst for a little less than three months Janet's eczema fully resolved and she no longer needs anything to maintain her beautiful facial skin.  We gave her a customized liquid herbal formula that addressed her specific issues combined with a topical herbal cream that Janet applied a few times a day.  
BEFORE/AFTER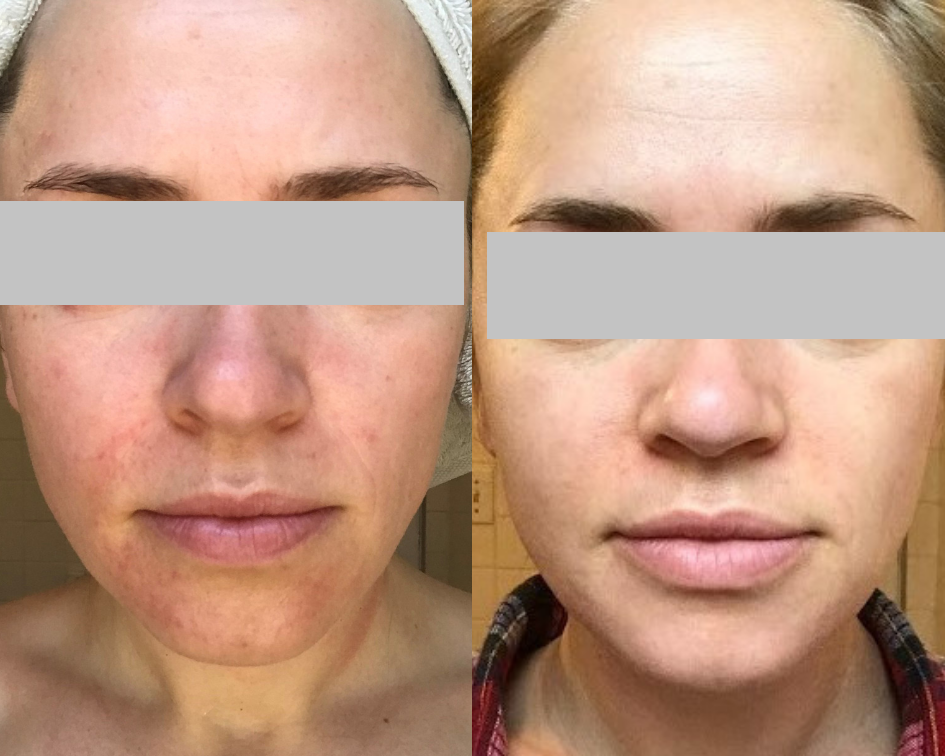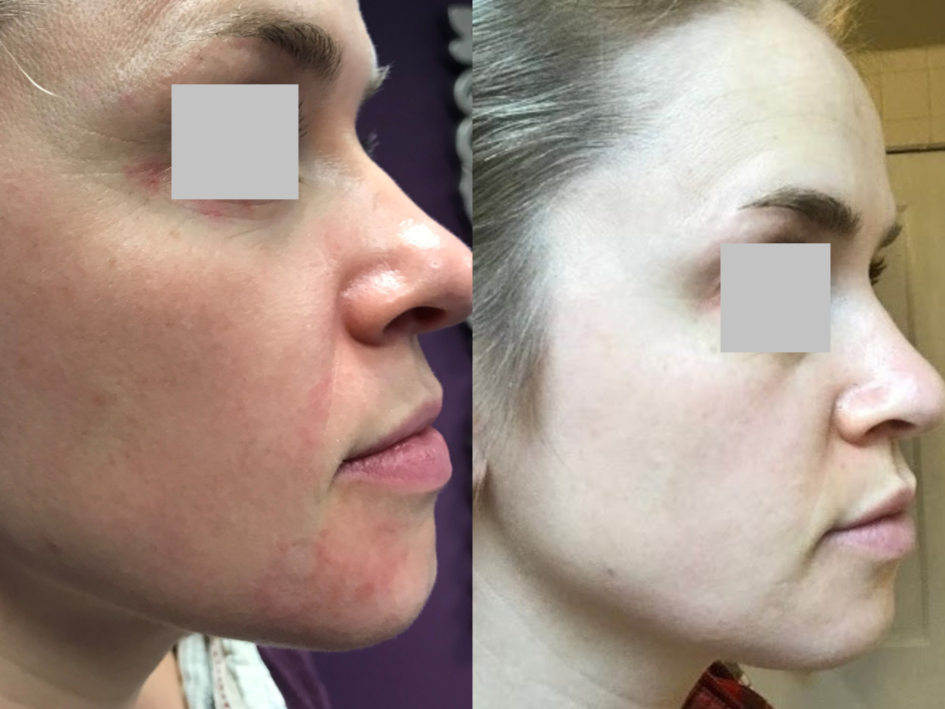 WHAT JANET SAYS

"After trying so many other treatments, and seeing my regular dermatologist, I was at a loss with treating my eczema. I was referred to Olivia and quickly set up my first appointment. It was so convenient to schedule either in person or online (which I loved).  Through Olivia's easy to follow treatment plan, I quickly began seeing measurable improvements. And after a couple of months, my eczema had cleared!  Thank you!!!"
*Janet is a pseudonym to protect her privacy.
QUESTIONS?

Amethyst Holistic Skin Solutions treats patients all over the contiguous US in person at the Chicago office or via video conference call.  If you have questions about your eczema condition, schedule a complimentary consultation.
WANT TO LEARN MORE?

Click HERE to get the Amethyst Holistic Skin Solutions Eczema Newsletter. You'll receive interesting information about Traditional Chinese Medicine (TCM) and Eczema via articles, before/after pictures, case studies of Amethyst Eczema Patients, videos, interviews and more. Feel free to click the icons below to share this article with someone who may benefit.
About the Author
Olivia Hsu Friedman, LAc, Dipl.OM, MSOM, RCMDerm, is the owner of Amethyst Holistic Skin Solutions and treats eczema patients throughout the US in person and via video conferencing using only herbal medicine. Outside of the office, Olivia serves as the Vice President of the Illinois Society of Acupuncturists and is also one of two Illinois delegates to the American Society of Acupuncturists.