As April showers lead to May flowers, I thought it would be appropriate to write about the Five Flowers of Herbal Medicine which are famous in Chinese medical textbooks. They are grouped together because of their individually unique abilities to treat a variety of conditions. I use many of them for dermatological issues. Read on to learn more!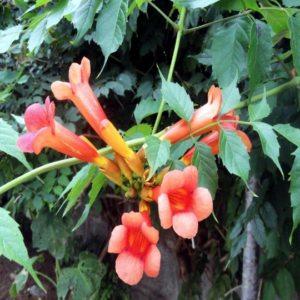 Ling Xiao Hua is called the Chinese Trumpetkreeper flower in English. I use it in various Acne, Rosacea and Atopic Eczema formulas because it treats stubborn skin conditions that keep resurfacing due to latent heat trapped in the skin. Ling Xiao Hua is like a "spy." Ling Xiao Hua lurks, locates, closes in and then, extinguishes latent heat. The result is that your skin stops producing red lesions and begins to recover.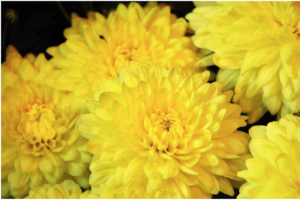 Ye Ju Hua is the wild Chrysanthemum. It is one of the best ingredients for skin conditions where fluid develops under the skin as in some cases of Impetigo, Seborrheic Dermatitis, Cystic Acne and Pompholyx Eczema. This flower is an antibacterial, anti-inflammatory, antiviral and it can also reduce itching. Once employed, it does a great job of eliminating the fluid which gives the skin a chance to return to normal.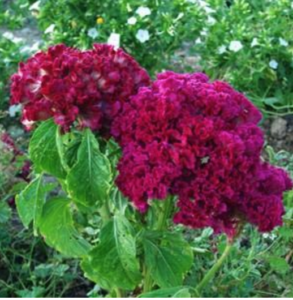 Ji Guan Hua is better known as the Cockscomb Flower. Believe it or not, it actually can STOP internal bleeding. It can also be used when there are signs of telangiesctasia or broken blood vessels on the face as in Rosacea.  This flower cools the blood so that it doesn't travel beyond the vessels.  As such, it earns its place in the Top 5 Flowers list.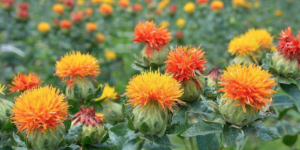 Hong Hua is the safflower.  Herbalists use this flower whenever there is a need to move or better circulate blood flow in an area where things may have gotten stuck or even, abandoned.  If you notice your skin has dark purple spots (Lichen Planus) or no pigment (Vitiligo) or is pooling blood (Stasis Eczema) or even, missing hair (Alopecia Areata); chances are good that Hong Hua will be used in your formula to re-stimulate areas that have stagnated and are in need of the nutrients supplied by blood.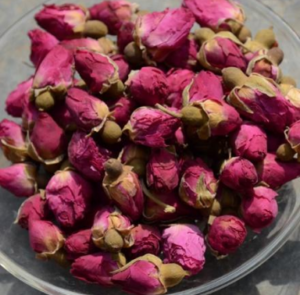 Mei Gua Hua often stars in potpourri and is better known as rosebuds. But don't let this little beauty fool you, it has serious brawn! It can actually disperse premenstrual pain or the stifling sensation in your chest or the feeling of distension in your tummy. In fact, it can even help to reinvigorate your blood after a trauma. Because it is so powerful, it rarely plays a direct role in dermatology. However, because herbal medicine treats the root cause of symptoms, this ingredient could be featured in a patient's formula who has dermatological issues that are heightened from menstrual issues.
Hope that this article gives you a nice, quick, introduction to five of the most powerful flowers in Chinese medicine.  Please note that all of these ingredients are best used in combination with other herbs to balance their associated characteristics. They should also be sourced from reputable farms that practice good manufacturing and storage practices to maintain the integrity and optimal medicinal qualities. A licensed herbalist who is conscientious about sourcing, storage and formula compounding will provide the safest, most effective usage/combination of herbs for your specific condition.
---
Want to Learn More?
Click HERE to get the Amethyst Holistic Skin Solutions Newsletter. You'll receive interesting information about skin health via articles, before/after pictures, case studies of Amethyst patients, videos, interviews and more. Feel free to share this article with someone who you think may benefit.
About the Author
Olivia Hsu Friedman, LAc, Dipl.OM, DACM, Cert. TCMDerm, is the owner of Amethyst Holistic Skin Solutions and treats Acne, Eczema, Psoriasis, and TSW. Olivia treats patients via video conferencing using only herbal medicine. Olivia is Chair of the Board of Directors of the American Society of Acupuncturists, serves on the Advisory Board of LearnSkin, and is a faculty member of the Chicago Integrative Eczema Group sponsored by the National Eczema Association.