Situation
Our patient Tina* found us through a podcast interview featuring Dr. Olivia Hsu Friedman. "After hearing her own story with eczema, I had a gut feeling that she could help solve the missing piece to my many years of suffering with hand eczema," says Tina.
"When I first saw Olivia, I had just had the most severe case of eczema along with a reaction to an antibiotic prescribed by my dermatologist. My hands had been so inflamed, people asked me if I had been burned. My dermatologist was trying to prevent infection because I also had little bumps moving up my wrists to my arms. I was miserable, itchy, burning, and not sleeping well."
Treatment
Tina is a perfect example how in herbal medicine one size does not fit all. An experienced herbal medicine professional can adjust dosage and herbs as a patient's case progresses, tailoring the medicine to each unique case.
"Olivia was patient with me as I have a sensitive stomach and had to change formulas a couple of times," Tina explains. "Also, I'm a bit of a 'less is more' person, and doing half a dose of herbal formula was usually enough for me."
After Seven Months
"After about 6 or 7 months of on and off formulas, we switched to herbal topicals which really have helped and I now use these when needed. I am now virtually clear—it feels like a miracle. This is not to say that my hands aren't still sensitive to icky soaps and preservatives. However, they are pretty damn close to perfect," reports Tina.
Before and After Photos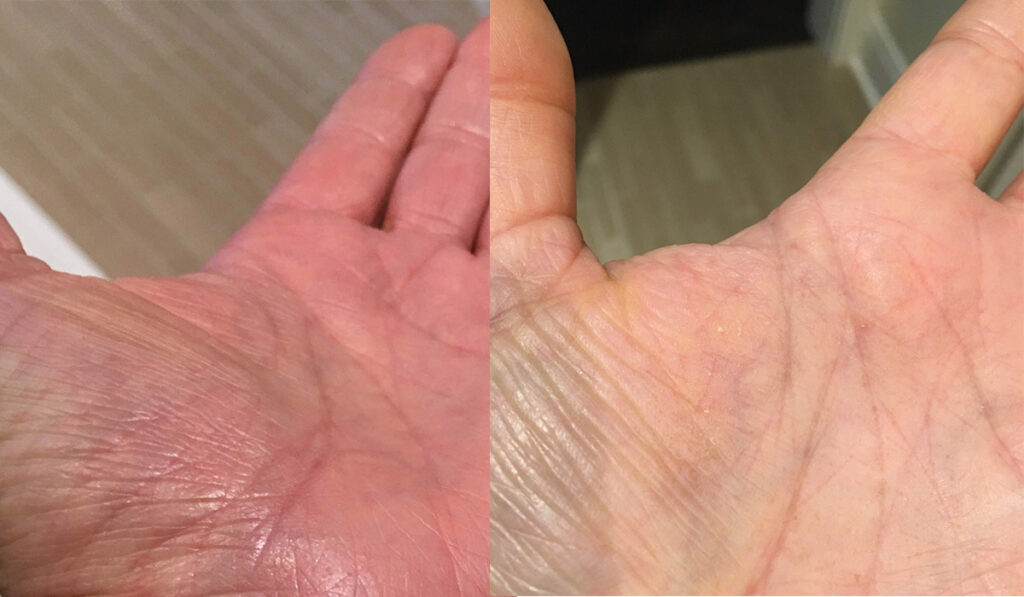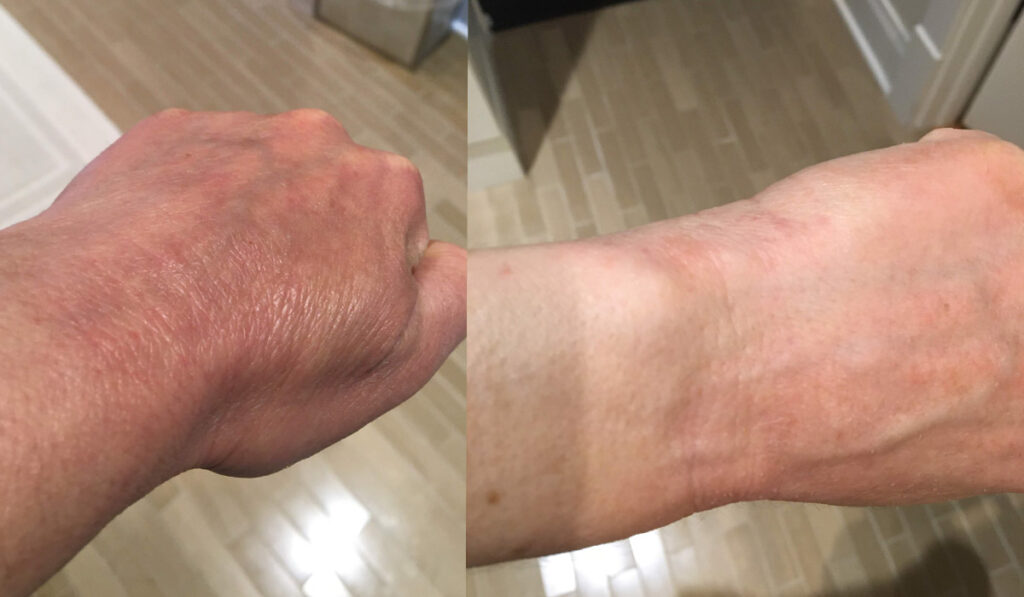 What Tina Has to Say
"I can't thank Olivia enough. She is patient, lovely, and completely understands what it is like to have a skin condition, and she helped me get better even in the midst of a world pandemic!"
*Tina is a pseudonym used to protect the privacy of the patient, who gave us permission to post her story.
---
Need Help with Eczema?
If you know someone who suffers from eczema or other stubborn skin conditions, here's a video that describes what an initial consultation is like, and provides more information on the herbal medicine approach to dermatology.
Learn More About Eczema
Get instant access to our free e-course "Solving Eczema Inside and Out." You'll also be added to Dr. Olivia Hsu Friedman's monthly newsletter with skin health tips, eczema case studies, uplifting stories, and more.
About the Author
Dr. Olivia Hsu Friedman, LAc, DACM, Cert. TCM Dermatology is the owner of Amethyst Holistic Skin Solutions and treats TSW, eczema, acne, and psoriasis patients via video conferencing using only herbal medicine. Olivia serves on the Advisory Board of LearnSkin, is the Chair of the American Society of Acupuncturists Board of Directors, and is a faculty member of the Chicago Integrative Eczema Support Group sponsored by The National Eczema Association.