Many eczema patients are used to using steroids to treat their condition. However, it's clear that continual reliance on steroids not only presents the possibility of side effects, it can also pose a risk for topical steroid withdrawal (TSW) once the patient decides to stop or reduce the steroid medication.
That's why our patient Claire chose to gradually wean off of her topical steroids while simultaneously using herbal medicine under the care of Dr. Olivia Hsu Friedman.
Claire's Situation
"After three years of using increasingly more potent topical steroid creams along with a variety of other drugs to calm the itch and spread of eczema, I knew there had to be a better approach," says Claire. "It was in an online nutrition course Instagram chat that I learned about Dr. Olivia and her Traditional Chinese Medicine (TCM) dermatology practice."
Like most people who may have tried TCM for other conditions like allergies or headaches, Claire hadn't heard that TCM is excellent for dermatology conditions. "While I have had several positive experiences with TCM over the years when living in another state, I never considered that herbs could treat conditions both internally and externally on the body."
Treatment
"Dr. Olivia clearly explained the wisdom behind Chinese medicine, her personal experience, and provided additional resources for me to understand how these herbs would treat my chronic eczema," says Claire.
"I have to admit that I knew going in that the taste of these herbs was going to be challenging, but I also knew that the way I had been living my life was surviving instead of thriving. Dr. Olivia supported my journey as I weaned my skin off of years of steroid cream application by adjusting the herbal medicine formula along the way. I was also able to utilize virtual appointments, address my skin concerns and symptoms. I ended each call feeling like I had a plan for healing! Her compassion and expertise inspired me to keep on track."
Before and After Photos
Here is the progress Claire experienced after four months of herbal medicine treatment for her eczema, while weaning off topical steroids. Her condition continues to improve.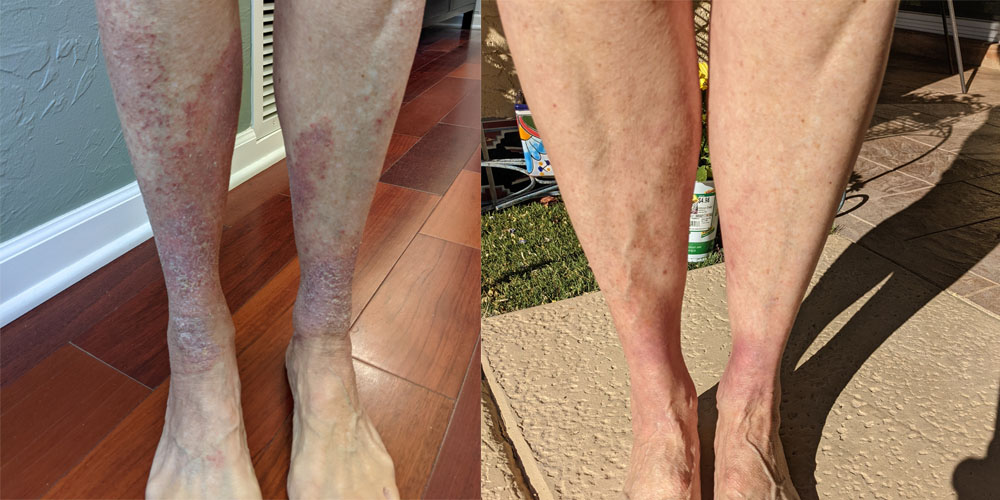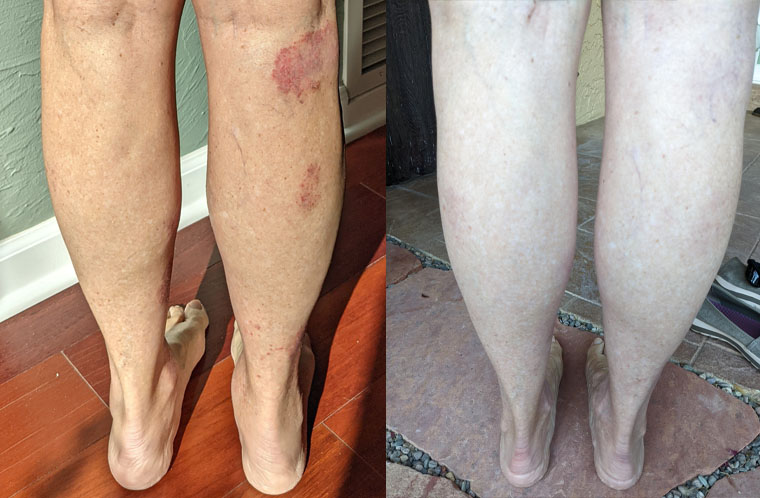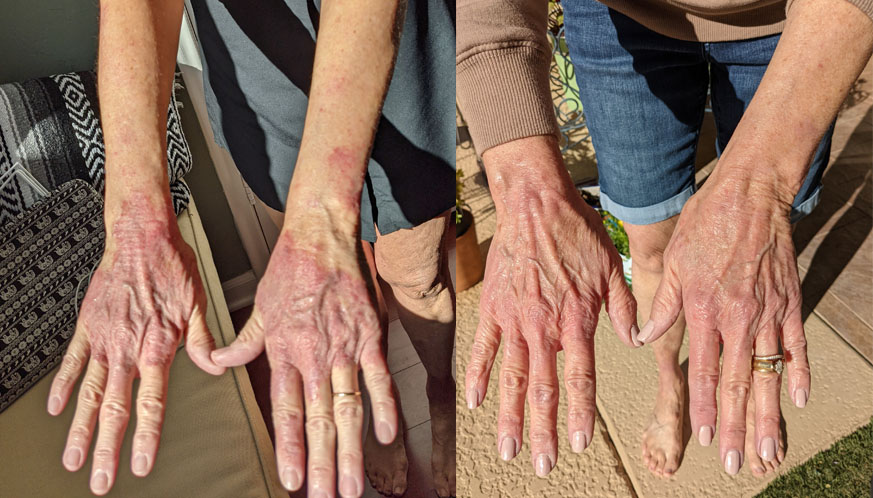 What Claire Says Now
"Looking back, there was a time when I couldn't wear shoes as the laces rubbed on my eczema and swollen ankles. The pain of a shower was literally unbearable. I held my breath when rolling over in bed. Ultimately, I wanted to swim with my grandkids, walk outside in shorts, travel, and celebrate with my husband."
"The taste of the herbs has become a non-issue in comparison to the healing and freedom that I am now experiencing from the inside out," exclaims Claire. "So much progress! Thank you so much, Dr. Olivia, for your support, expertise, and encouragement!"
*Claire is a pseudonym used to protect the privacy of the patient, who gave us permission to post her story.
---
Need Help with Eczema or TSW?
If you know someone who suffers from rosacea, eczema, TSW, or other stubborn skin conditions, here's a video that describes what an initial consultation is like, and provides more information on the herbal medicine approach to dermatology.
You can also learn more about TSW with our free e-course "Taming TSW."
About the Author
Dr. Olivia Hsu Friedman, LAc, DACM, Cert. TCM Dermatology is the owner of Amethyst Holistic Skin Solutions and treats TSW, eczema, acne, and psoriasis patients via video conferencing using only herbal medicine. Olivia serves on the Advisory Board of LearnSkin, is the Chair of the American Society of Acupuncturists Board of Directors, and is a faculty member of the Chicago Integrative Eczema Support Group sponsored by The National Eczema Association.