Western medical doctors view topical steroids as a first line of defense in almost all skin conditions as they provide short-term relief for many symptoms. However, steroids are tricky and can trigger TSW (topical steroid withdrawal). What's worse, it's not only long-term steroid use that triggers TSW, it can happen with only a few or infrequent applications. Topical Steroid Withdrawal (TSW) can end up proving to be a worse condition than the initial problem the steroids were designed to treat.
Here's what happened to our patient, Ella*:
Situation and Treatment
"I was experiencing steroid-induced rosacea all over my face from quitting topical steroids (that I had been using daily for over a year) cold turkey. I had huge splotches around my eyes and chin, and a general puffiness all over my face," says Ella. "After 5 days of testing out the herbs, and two full weeks of taking the packets 2x daily, I am completely clear."
Before and After Photos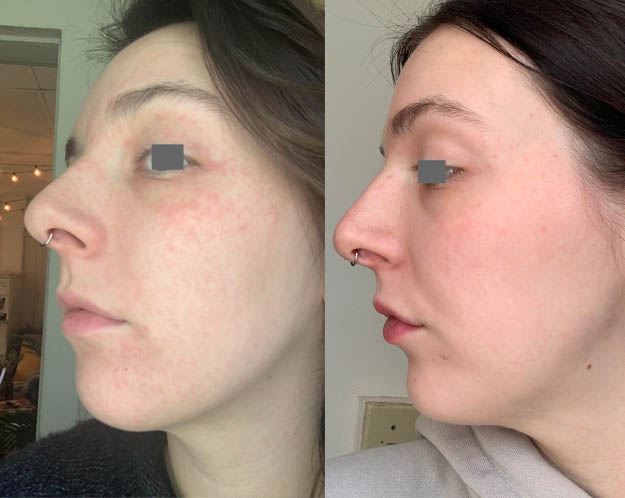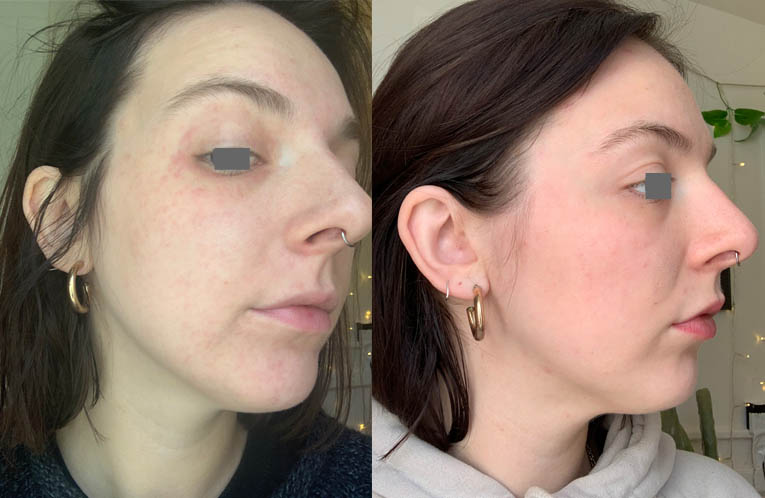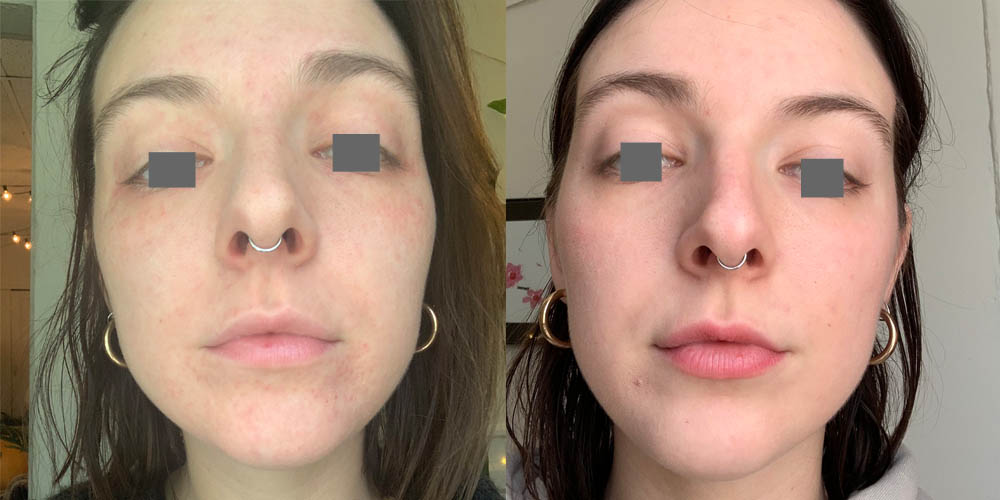 Related Issues Resolved
"I wasn't just dealing with the rash, but the dryness of my skin turning over and trying to rebuild," recalls Ella. "Now my skin is in a much healthier place, the rash and general dryness are fully gone, and my natural skin barrier is getting stronger!"
"I was also discussing my general skincare with Olivia while dealing with the rash and dryness to make sure I was taking care of my skin during the healing process."
Choosing Herbal Medicine Was Easy
"I was very happy with my experience with Olivia at Amethyst," says Ella. "I have had luck with herbal medicine before, and the reviews for Olivia were amazing, so I had high hopes for the herbal medicine packets."
"I was also very impressed with the initial intake form, as it was very thorough and detailed. It solidified my hope that this process was tailored to me and my issues," she says.
It's true that the intake form at Amethyst Holistic Skin Solutions is quite detailed and designed to find the root cause of your skin problem. Our Traditional Chinese Medicine (TCM) approach takes into account each individual's unique health profile to identify key imbalances, which can vary from person to person, even if they have the same skin condition.
Conclusion
Skin health is complex, and there is never a one-size-fits-all treatment. In Ella's case, her skin was struggling to cope with several factors, including topical steroid withdrawal. Restoring her natural skin will help make it more resilient in the future.
*Ella is a pseudonym used to protect the privacy of the patient, who gave us permission to post her story.
---
Need Help with Rosacea or TSW?
If you know someone who suffers from rosacea, eczema, TSW, or other stubborn skin conditions, here's a video that describes what an initial consultation is like, and provides more information on the herbal medicine approach to dermatology.
You can also learn more about TSW with our free e-course "Taming TSW."
About the Author
Dr. Olivia Hsu Friedman, LAc, DACM, Cert. TCM Dermatology is the owner of Amethyst Holistic Skin Solutions and treats TSW, eczema, acne, and psoriasis patients via video conferencing using only herbal medicine. Olivia serves on the Advisory Board of LearnSkin, is the Chair of the American Society of Acupuncturists Board of Directors, and is a faculty member of the Chicago Integrative Eczema Support Group sponsored by The National Eczema Association.