Lichen Sclerosis (LS) is a skin condition producing white blotches or patches of thin skin, usually around the genital or anal area. Occasionally, you may find cases of LS on the torso or limbs. The symptoms of LS include redness, itchiness, and tearing, bleeding, or blistering.
When it affects the genitals, it can be incredibly difficult for LS sufferers to wear clothes, sit, ride bikes, or have sex. Many patients are ashamed to seek help and/or ashamed to have intimate relationships. Mostly, they are ashamed to talk about it, so they often suffer in painful and itchy silence.
The condition is not contagious, and is often misdiagnosed as another type of rash or infection that can sometimes produce a similar appearance.
What Lichen Sclerosis Looks Like
Most photos of LS are too sensitive or private to show on our site. However, here is a sample photo of the type of white, thin patches of skin that are a hallmark symptom of LS: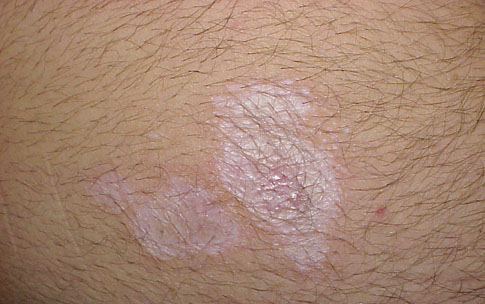 Situation
Our case study is a female LS patient who found Dr. Olivia Hsu Friedman through a podcast interview. Prior to that, she did not think there were any answers. Western dermatologists couldn't offer more than steroid and antibacterial treatment, both of which hadn't worked in her case.
Once under Dr. Olivia's care, this case was entirely treated thru internal herbal medicine in about 3 months.* The patient saw improvements every week. She continued receiving treatment for a few more months, slowing weaning off the medicine, as she had a hard time feeling convinced she was cured since she's had the condition for so long.
Results
The patient recently got married, has no difficulty with intimacy, and is now riding her bike regularly. She previously hadn't ridden her bike 6 years due to her condition. Since getting treatment and being more open about having had the condition, she discovered that many of her friends and colleagues suffered variations of this condition as well.
What Our Patient Says
"Working with Dr. Olivia has completely changed the course of my long-term struggle with LS. I'd spent more than five years trying western medicine protocols and alternative treatments. After working with her for only a few months, I have been able to heal. I am almost completely free of any symptoms and, more importantly, my skin has been able to recover and strengthen so that I can get back to my life!" she says.
"Dr. Olivia's extensive knowledge of Chinese herbs, her multidimensional understanding of dermatology, and her compassion as a healer, have made all the difference in my life and my health. We have had many interesting conversations on the layers of pain, fear, shame, and anxiety that come along with years of struggling with what I thought was a chronic condition. I am no longer consumed by those heavy emotional distractions. There are no words to express the amount of gratitude I have for being given the opportunity to work with her."
*Everyone's healing timeline depends on their unique combination of contributing factors
---
Need Help with Lichen Sclerosis?
If you know someone who suffers from lichen sclerosis or other stubborn skin condition, here's a video that describes what an initial consultation is like, and provides more information on the herbal medicine approach to dermatology.
About the Author
Dr. Olivia Hsu Friedman, LAc, DACM, Cert. TCM Dermatology is the owner of Amethyst Holistic Skin Solutions and treats patients via video conferencing using only herbal medicine. Olivia serves on the Advisory Board of LearnSkin, is the Chair of the American Society of Acupuncturists Board of Directors, and is a faculty member of the Chicago Integrative Eczema Support Group sponsored by The National Eczema Association.