So many eczema patients find that while drugs and topical steroids may offer temporary relief, they do not or cannot bring real and lasting healing. That was *Oscar's experience. Here's his story:
Looking for Answers
"I was incredibly fortunate to have come across Dr. Olivia. Before I found her, I went to a dozen MDs and NDs to try and treat a severe oozing eczema that was getting progressively worse over the course of a year," remembers Oscar.
"None of the treatments or steroids they tried had any more than a temporary effect. Their ultimate answer was to put me on long-term injectable immunosuppressants."
A New Path Through TCM
While many people have heard of or used Traditional Chinese Medicine for other chronic health problems, not everyone knows that TCM is very effective for dermatological conditions. That was Oscar's case. He'd actually used TCM before, but it had never crossed his mind as a possible solution for his struggle with eczema.
"Luckily, I had experienced the benefits of TCM for unrelated issues and decided to give it a try again," says Oscar. "In my experience the herbs were slower acting but provided a more permanent and complete healing compared to the fast-acting yet temporary solution pharmaceuticals provided."
Before and After Photos (7 Months)
Oscar experienced gradual improvement over a period of seven months. While still having a flareup or two during the healing process, with time, he recovered his healthy, natural skin once again.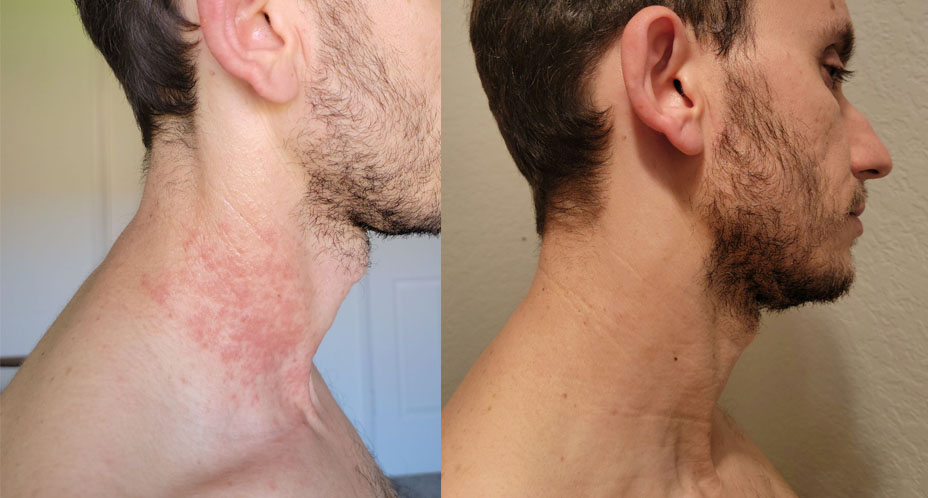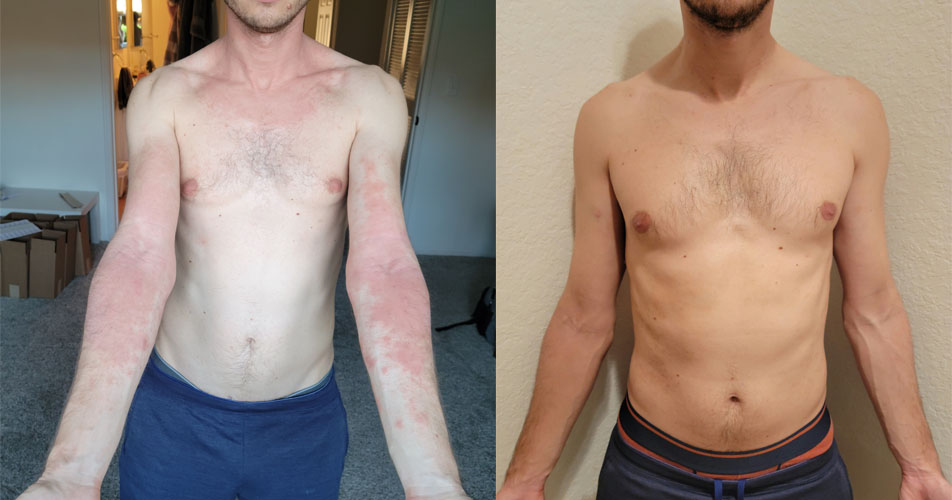 What Oscar Says Now
"Dr. Olivia is wonderful to work with," Oscar shares. "She is great at listening to your needs and answering your questions. She is reassuring and confident, but at the same time realistic about what can be accomplished with herbal treatments. I have recommended Dr. Olivia to multiple family and friends and will continue to do so!"
*Oscar is a pseudonym to protect this patient's privacy
---
Want to Learn More About Eczema?
Dr. Olivia offers a free e-course called "Solving Eczema Inside and Out" and other resources for those suffering from eczema and topical steroid withdrawal. Also, check our media section for interviews and more articles on TSW.
About the Author
Olivia Hsu Friedman, LAc, Dipl.OM, DACM, Cert. TCMDerm, is the owner of Amethyst Holistic Skin Solutions and treats Acne, Eczema, Psoriasis, and TSW. Olivia treats patients via video conferencing using only herbal medicine. Olivia is Chair of the Board of Directors of the American Society of Acupuncturists, serves on the Advisory Board of LearnSkin, and is a faculty member of the Chicago Integrative Eczema Group sponsored by the National Eczema Association.