The most frustrating thing about Topical Steroid Withdrawal (TSW) is that it is a result of the body's rejection of the very medicine you may have tried to use to solve your first skin condition. The medicine not only fails to work in the end, but creates a second skin condition with more problems – often worse than the ones you started with.
Dierdre Searches for Eczema Relief – Gets TSW Instead
"My initial feelings towards herbal medicine/alternative medicine were positive. I have always been inclined towards herbal remedies, but nothing ever for my eczema. I can't remember a time when I wasn't itching from early childhood until now in my mid-20's," says Dierdre.
"My skin had managed well with steroids prescribed by western medicine doctors for most of my life; until recently, when my skin completely rejected any type of moisture. It flaked, oozed, and was hot/painful to the touch. I was confused, scared, and worried I had done something wrong or my 'eczema' was worsening. I researched my symptoms, and happened to stumble upon the condition known as TSW."
Dierdre's situation is a common one. If you already have underlying eczema, it can be hard to understand the new and worsening symptoms and understand that their caused by your body's reaction to the steroids in your eczema treatment.
After Two Weeks of Herbal Medicine
After years of yo-yo-ing between flares and being at my lowest place with my skin, I decided to give herbal medicine a try. I tried taking the herbs for a couple weeks at first. After two weeks I felt relief and saw leaps of improvement in my skin.
Before and After Photos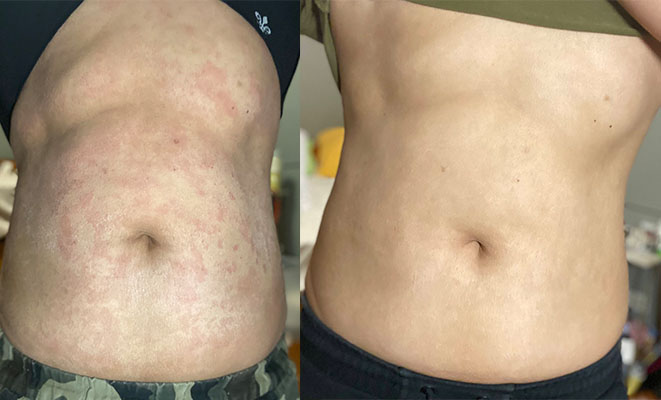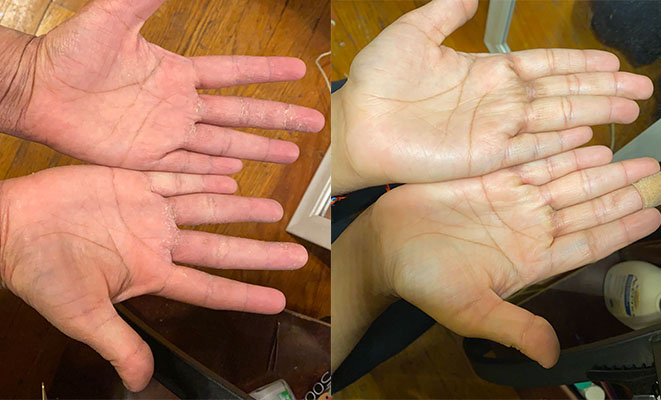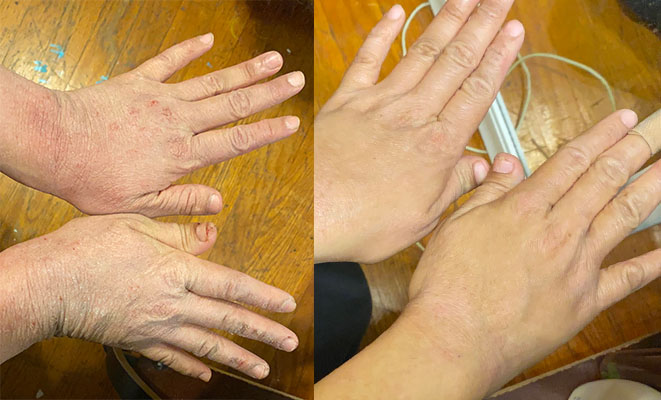 Dierdre's case shows how resolving TSW can make such an immense improvement in your quality of life.
"The constant itch that I'd just accepted as part of my life, has now subsided to a much less intense itch. I almost couldn't believe it," says Dierdre.
What Dierdre Says Now
"Olivia's extensive knowledge on TCM and her genuine caring demeanor made working through my TSW so much more manageable and helped restore my hope in my skin's healing."

*Dierdre is a pseudonym used to protect the privacy of the patient, who gave us permission to post her story.
---
Need Help with Eczema or TSW?
If you know someone who suffers from Eczema, TSW, or other stubborn skin conditions, here's a video that describes what an initial consultation is like, and provides more information on the herbal medicine approach to dermatology.
You can also learn more about eczema with our free e-course: "Solving Eczema from the Inside Out." We also offer a free e-course on "Taming TSW."
About the Author
Dr. Olivia Hsu Friedman, LAc, DACM, Cert. TCM Dermatology is the owner of Amethyst Holistic Skin Solutions and treats TSW, eczema, acne, and psoriasis patients via video conferencing using only herbal medicine. Olivia serves on the Advisory Board of LearnSkin, is the Chair of the American Society of Acupuncturists Board of Directors, and is a faculty member of the Chicago Integrative Eczema Support Group sponsored by The National Eczema Association.