It takes courage to endure a severe skin condition like Topical Steroid Withdrawal. TSW can be sudden, debilitating, and ravage a sufferer's quality of life.
But imagine the bravery of documenting your TSW struggles and recovery online, sharing with the world how your skin looks – even at its worst, sharing how you feel physically, mentally, emotionally, and tracking what treatments work and which don't through before and after videos.
Raising Awareness with his Personal Story
Meet Christopher Ignas who did just that. Chris suffered from a severe case of TSW after 10 months of using a topical steroid cream he used to treat a case of hives. Withdrawing from the steroid cream left him with open lesions and sheets of skin flaking off his body. Taking a shower was almost impossible as drops of water felt like burning acid on his skin.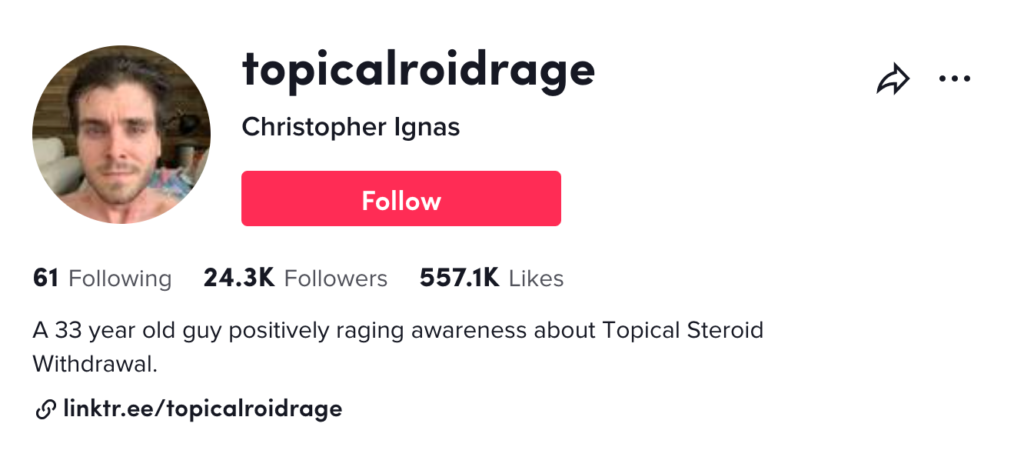 "I had a bone-deep itch on every inch of my body, where I would scratch until I bled and then my skin started to burn and sting," says Chris in an article that appeared in the UK Mirror. "Insomnia set in due to itching every moment and I would get shocks of electricity randomly throughout my body, that would cause me to twitch."
Frustrated by the lack of information online, and the limited understanding of TSW among medical professionals, he wanted a way to reach out to other TSW sufferers to share answers, hope, and recovery stories.
Tik-Tok Logged Christopher's Recovery with TCM Herbal Medicine
Chris' Tik-Tok account, Topicalroidrage, soon made him a leading influencer on TSW. Even though he now considers himself fully recovered and enjoying a normal life, he left his journey posted online as a resource for those with TSW. His account containing his story currently boasts more than 24,000 followers.
Many of his lifestyle and skincare treatments had positive effects on his symptoms, but his recovery really took off once he started an individually prescribed TCM herbal medicine treatment program from Dr. Olivia Hsu Friedman. Chris was already 16 months into his TSW journey before contacting Dr. Olivia, but within just three weeks of taking TCM herbal medicine, he started seeing improvements in his symptoms and recorded the first two videos below. Two months later, he recorded his remarkable recovery with before and after photos in the third video below:
Learn More About Chris and his TSW Recovery
Today, Chris is fully recovered and moving on with a normal and thriving life. Chris has appeared on key podcasts hosted by others in the TSW online community, offering hope and encouragement with no judgment, understanding that each person's response to any treatment may be different and that no two TSW recovery stories are the same.
Two podcasts that include his story are TSW: Journey to Healing, and the Alt Health Show from Ctrl Skin along with additional guest, Dr. Olivia Hsu Friedman.
We're proud to be a key touchstone for Chris and his TSW recovery, as we are for so many other TSW patients. We hope that you, too, will explore our many other case studies, resources, and free e-course on TSW to begin your own healing journey.