Indigo is the word we use to describe a deep, rich color of blue. Yet Indigo actually refers to the plant known as indigofera tinctoria, which is the source of the blue dye used to give blue jeans their color.
An Herbal History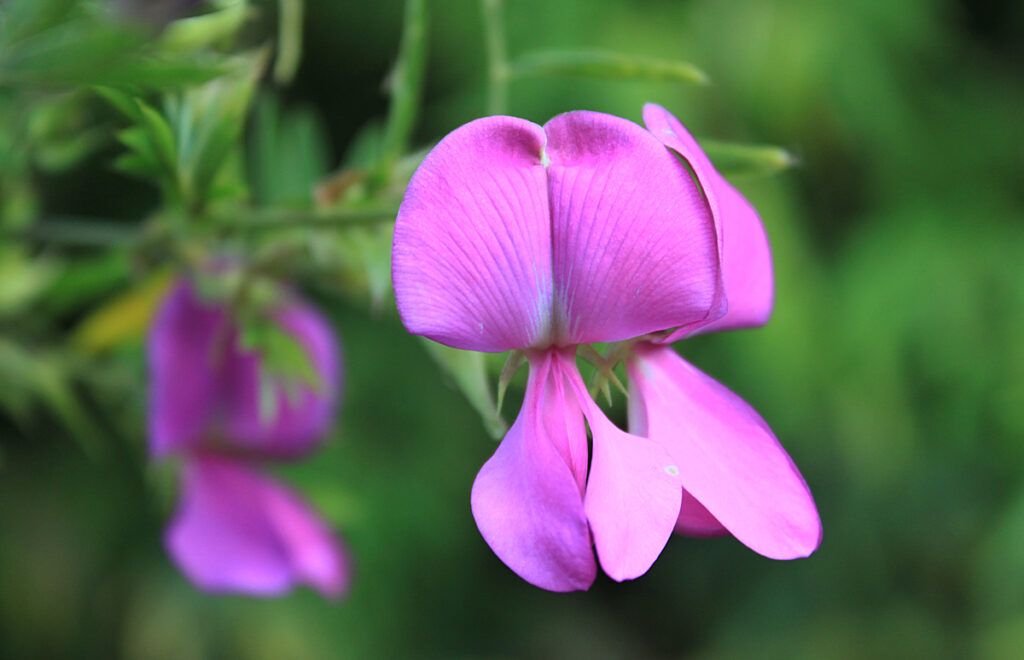 Although the indigo flower is pink, it's the leaves that are fermented for blue dye. Fabrics dyed with indigo were considered to have anti-microbial and anti-odor properties, so much so that the Samurai in Japan wore indigo clothing under their armor. Early firefighters in Japan wore indigo clothing as the dye also gives fabric a flame retardant quality.
Plants from the Indigofera genus are found all over the world and have been used for centuries in many cultures as an anti-inflammatory and anti-bacterial agent. Historically, indigo herbal preparations were used for insect and snake bites, swelling, ulcers, and infections.
Indigo in Chinese Herbal Medicine
In Traditional Chinese Medicine, indigo naturalis, or Qing Dai (pronounced ching dye) is a powdered preparation from the leaves and stems. It has been used in TCM for centuries. Its nature is salty and cold, and it can clear what we call 'heat' and 'fire' from the liver, stomach, and lung meridians. It also clears toxicity from the body.
This is important for those who suffer from chronic skin conditions, as often the redness and itching of TSW, eczema and dermatitis is a result of too much heat and fire.
Topical Indigo
Herbal teas and extracts that include indigo can be systemic irritants if taken internally for too long. That's why we're excited seeing how effective it is when used topically to treat skin conditions. In TCM, sometimes indigo is prepared with other herbs as a paste to treat skin conditions including psoriasis, eczema and acne. However, it can also be used in combination with petroleum jelly, as an extract, or in combination with other neutral vehicles.
"When I prescribe topical indigo, we either apply the powder directly to the lesion or mix it with sesame seed oil," says Dr. Olivia Hsu Friedman of Amethyst Holistic Skin Solutions. "Sesame Seed oil is one of the most neutral oils and works well with herbal medicines, and is a common vehicle to help apply or spread topical herbal medicines. Of course, if a patient is allergic to sesame seed oil, we don't use it."
In a research study from Taiwan, 31 out of 42 patients with bilateral psoriasis, who had no results from two different medical psoriasis treatments, had their plaques cleared or nearly cleared after 12 weeks of using a topical ointment containing indigo. Another study shows that indigo extract used topically is also a safe and effective treatment for nail psoriasis.
Topical indigo ointment also proved safe and effective at reducing the symptoms of eczema in another study.
Because of the many documented results of using topical indigo for skin conditions, indigo is now making its way into commercial skin preparations.
Modern Dermatology Learning from TCM
With herbs like indigo being rediscovered in the west by mainstream medicine, and evidence-base results documented in research, it's exciting to know that TCM brings new healing possibilities to integrative medicine. We're learning that there is sound science behind ancient treatments and reproducing similar results today with TCM dermatology patients.
---
As with all TCM herbs, always consult a licensed TCM practitioner for a comprehensive diagnosis and accurate prescription and dosage guidance. Self-prescribing is never recommended. Caution: The powdered form of medicinal indigo is very different from the fabric dye. Fabric dyes – even natural ones – have added chemicals like lye, which can be poisonous if swallowed.
---
Want to Learn More About Skin Health?
Click HERE to get the Amethyst Holistic Skin Solutions Newsletter. You'll receive interesting information about skin health via articles, before/after pictures, case studies of Amethyst patients, videos, interviews and more. Feel free to share this article with someone who you think may benefit.
About the Author
Olivia Hsu Friedman, LAc, Dipl.OM, DACM, Cert. TCMDerm, is the owner of Amethyst Holistic Skin Solutions and treats Acne, Eczema, Psoriasis, and TSW. Olivia treats patients via video conferencing using only herbal medicine. Olivia is Chair of the Board of Directors of the American Society of Acupuncturists, serves on the Advisory Board of LearnSkin, and is a faculty member of the Chicago Integrative Eczema Group sponsored by the National Eczema Association.