Situation
Our patient Maya* suffered from psoriasis for more than a decade and a half. "It began on my legs when I was 8 and slowly made appearances all over my body: my arms, my legs, my scalp — you name it, I had it," she explains
"Dermatologists and general medical practitioners alike were taken aback by the pervasiveness and plaque levels of my psoriasis. For years, I tried all kinds of steroids, topicals, and shampoos. I was skeptical about trying supplementary herbs but allured by the idea of sustainability and medication that was less harsh on my body."
Treatment
Dr. Olivia Hsu Friedman started working with Maya a year ago. They met only once each month, as it was immediately clear that the herbs worked for Maya, and she just needed more time on the herbal formula.
Every month Dr. Olivia changed her formula just a bit to keep her body responsive to the medicine. That's why patients need to work with an experienced herbal medicine practitioner who knows how to adjust ingredients and dosage to promote continual progress.
Now that it's been a year, Dr. Olivia stopped Maya's medication so that her body could take a break for a few weeks. "In many cases, when you are on herbs for an extended period of time, the body builds up a tolerance, so we take a short time out. Once the body is off the herbs for a few weeks, when we reintroduce the herbal formula we see faster more pronounced gains in both body and skin than before the break."
Before and After Photos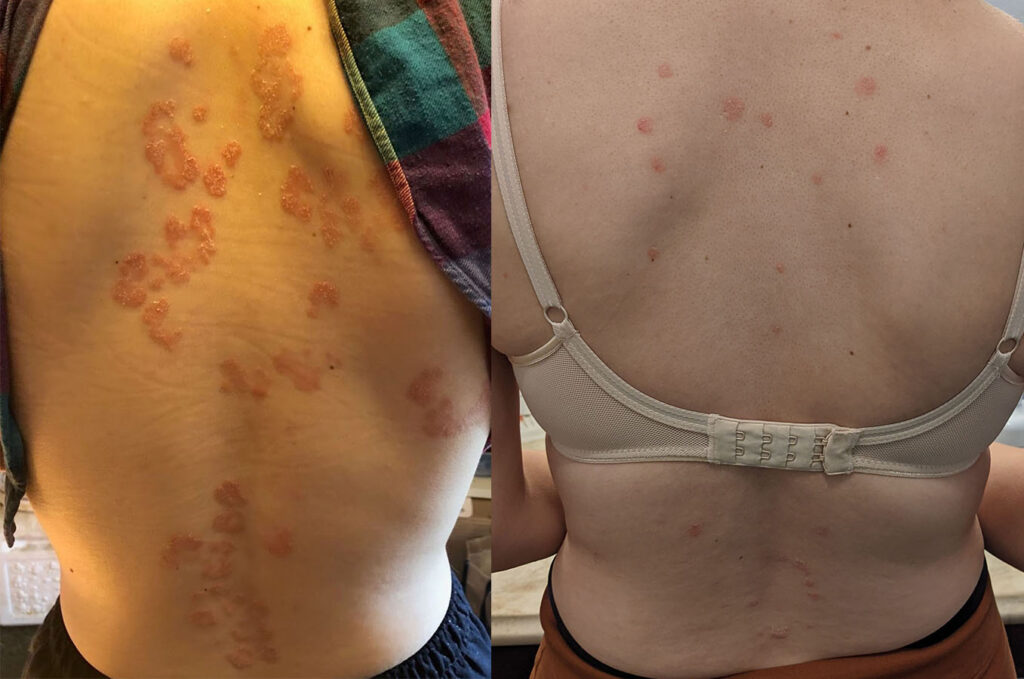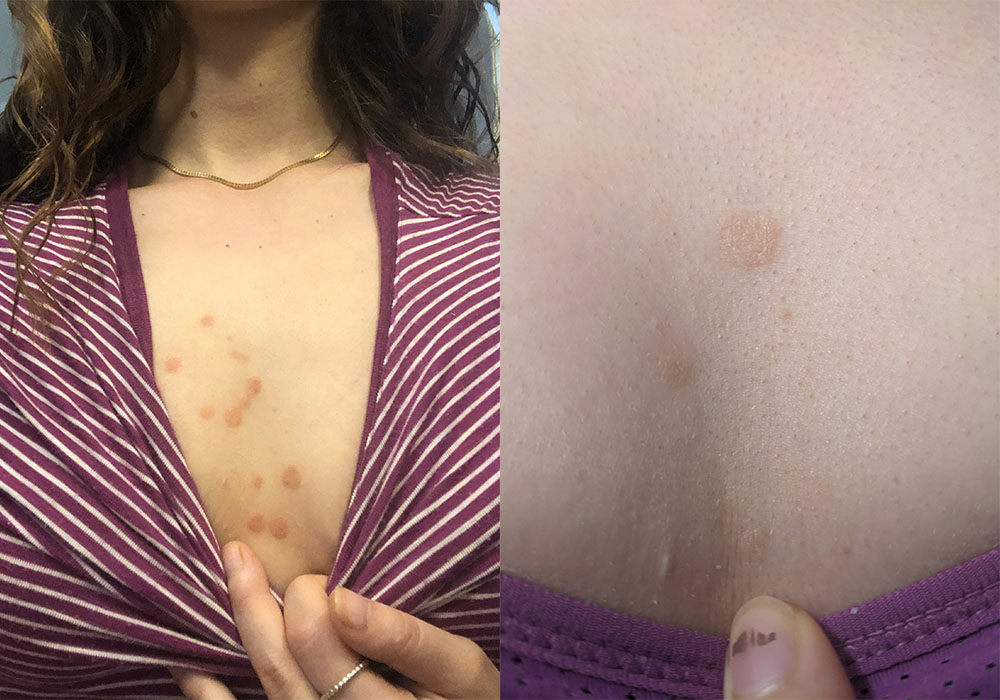 After 1 Year, Maya Says
"It's now a year later and I don't even remember the last time my skin was this smooth and calm. Olivia's knowledge, care, and attentiveness facilitated a marvelous transition in my skin. I would (and have!) recommend trying this holistic skin treatment to anyone suffering from skin conditions as a promising and sustainable way of caring for our bodies."
*Maya is a pseudonym used to protect the privacy of the patient, who gave us permission to post her story.
---
Need Help with Psoriasis?
If you know someone who suffers from Psoriasis or other stubborn skin conditions, here's a video that describes what an initial consultation is like, and provides more information on the herbal medicine approach to dermatology.
About the Author
Dr. Olivia Hsu Friedman, LAc, DACM, Cert. TCM Dermatology is the owner of Amethyst Holistic Skin Solutions and treats TSW, eczema, acne, and psoriasis patients via video conferencing using only herbal medicine. Olivia serves on the Advisory Board of LearnSkin, is the Chair of the American Society of Acupuncturists Board of Directors, and is a faculty member of the Chicago Integrative Eczema Support Group sponsored by The National Eczema Association.