Situation
When Rebecca* and I first met via video conferencing, she had suffered from plaque psoriasis for over 20 years. The lesions covered every part of her body. She had seen 8 dermatologists and had exhausted all possible pharmaceuticals to no avail.
During our 60 minute initial intake, we discussed Rebecca's whole skin and general health history as well as her diet, lifestyle, psycho/emotional well-being and stress levels. From that information, I prescribed a customized liquid herbal medicine to address the root cause of her psoriasis as well as her individual combination of contributing factors. Lastly, I prescribed a daytime and nighttime herbal topical in order to treat the skin from both inside and outside. We met every few weeks to reevaluate her condition and adjust the formula to continuously meet her needs.
This is what Rebecca's skin looks like now.
Before/After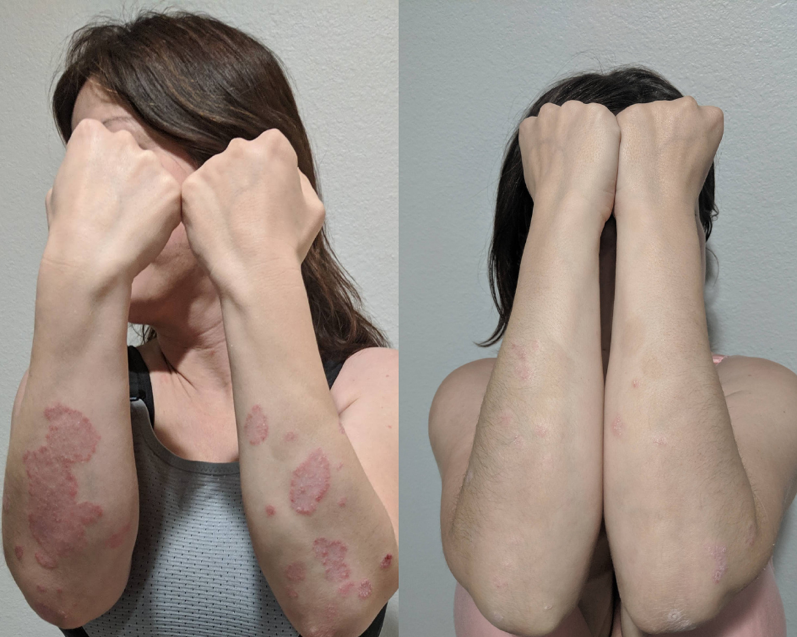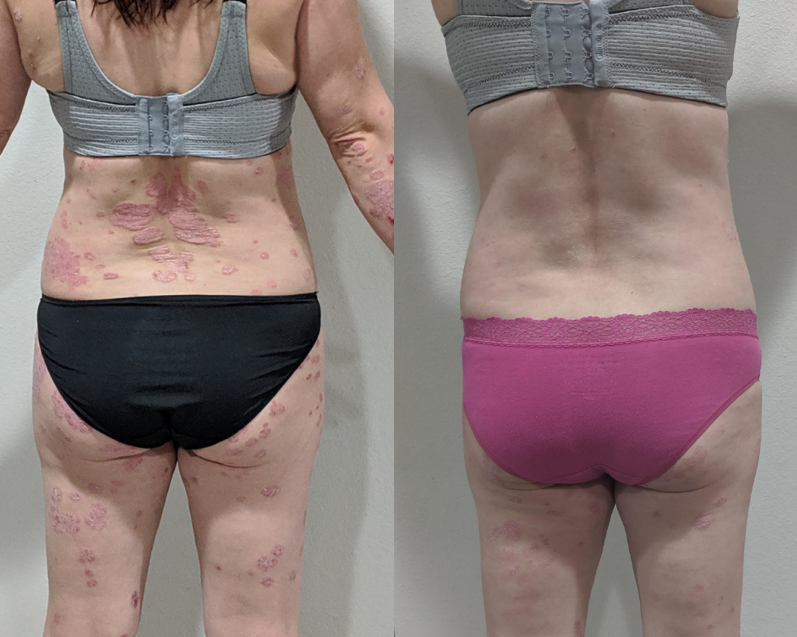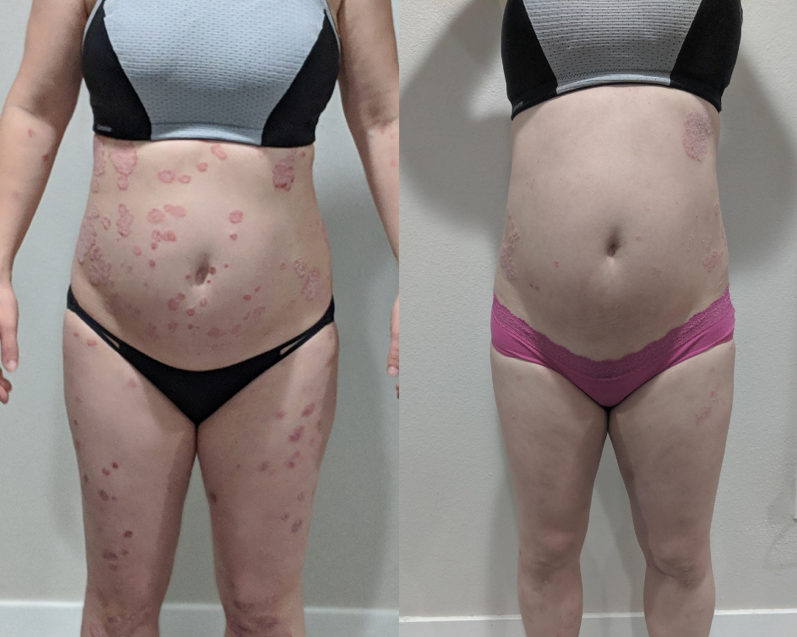 What Rebecca Says
"Since starting with Olivia in December, I didn't know what to expect. I had taken herbs and tinctures in the past through my chiropractor but those were for short-term issues such as colds. I knew the herbs from Olivia probably would not taste good, but I didn't know if they would work.
"I have had moderate to severe psoriasis for twenty years. Pharmaceuticals have provided great relief, but only for a short period of time until my body 'figured them out' then they would just stop working and it was on to the next. I didn't want to spend my life going from drug to drug, appealing insurance denials, worrying about side effects, and worrying about how long the next drug would last before my body 'figured it out.' So, I stopped.
"When I found Olivia, my skin was in pretty bad shape. Since working with her, using topical herbs and herbal teas, I have seen amazing gains without having to worry about side effects. In fact, we regularly discuss other issues related to my health and most recently we are working on a formula that addresses my skin and persistent night sweats. I am finding that the night sweats are diminishing while my skin continues to improve. I feel like I have found a source for whole-body health – a solution that is addressing the root of the problem and hopefully will lead to a long-term solution."
Next Steps
Rebecca and I still have some work to do. Often, Psoriasis patients have a few spots that take a little longer to heal than others. Additionally, after the spots heal, there can be some hyperpigmentation left behind which we can also address with other herbal medicines. But as you can see, Rebecca is well on her way to a full body of normal-looking skin.
* Rebecca is a pseudonym to protect patient privacy
* Everyone's healing timeline depends on their unique combination of contributing factors.
---
How to Get Help
Over 8 million people in the US suffer from psoriasis. If you know someone who would like to heal, you can learn more about herbal medicine and dermatology, as well as what to expect during a first consultation, by watching this video.
Want to Learn More?
Click HERE to get the Amethyst Holistic Skin Solutions Newsletter. You'll receive interesting information about skin health via articles, before/after pictures, case studies of Amethyst patients, videos, interviews and more. Feel free to share this article with someone who you think may benefit.
About Olivia
Dr. Olivia Hsu Friedman, LAc, DACM, Cert. TCM Dermatology is the owner of Amethyst Holistic Skin Solutions and treats psoriasis patients via video conferencing using only herbal medicine. Olivia serves on the Advisory Board of LearnSkin, is the Chair of the American Society of Acupuncturists Board of Directors, and is a faculty member of the Chicago Integrative Eczema Support Group sponsored by The National Eczema Association.