Situation:
"I developed eczema after having my daughter. Over the period of a year, I tried everything under the sun: allergy testing, NAET, naturopathy, homeopathy, light treatment and finally the dermatologist," says Madison*. "I was extremely naïve when I was prescribed clobetasol propionate, the strongest class of topical steroid available. Within a short couple of months, I developed Topical Steroid Withdrawal."
Discovering TCM
"Several months later, on one of the many nights of not being able to sleep, I found an article published by Dr. Olivia on a before and after case of TSW using Traditional Chinese Medicine. After having done hundreds of hours of research looking for answers, cures, anything to help with TSW, I instantly knew from the pictures that this was remarkable progress. Over the next several weeks, I read and listened to every available article or interview Dr. Olivia had done to learn everything I could about TCM and contacted her to get started.
Madison received a trial run of herbs to take for several days to see how her body responded before being accepted as a candidate for herbal medicine. "I prayed that they would work for me. Within a couple short days, my pain lifted slightly and I was ecstatic that I could continue. That started my 9+ month journey that brought incredible progress," she says.
Initial Results
"The biggest initial relief was that my pain lifted. I felt like I'd been living under a cloud of pain for months trying to take care of a toddler and a newborn, and the herbs drastically improved my ability to function," says Madison.
"Changes happen slowly, but it's amazing to experience the progress unfold. After the pain subsided, the open wounds on my face started to close up, and I was able to start sleeping more at night. With each progress meeting, Dr. Olivia was able to pinpoint what my body needed to make progress to get to the next stage of healing. Through the use of the herbal oral packets and topical treatments, she's able to target different areas of your face and other affected body parts on what they individually need to tackle open wounds, dryness, flakes, plastic feeling, texture etc."
Madison learned that TCM formulas are individualized to the patient's specific health profile and current condition.
"I'll never forget several months in when I was able to start washing my face again and apply moisturizer. My skin was getting stronger and could handle it, which felt incredible. Slowly the texture and suppleness of my skin returned and I kept looking more and more like my old self."
Before and After Photos
This first photo shows Madison's TSW at its worst. Madison was able to resolve a lot of TSW on her own but the residual lesions stubbornly did not resolve and kept her from wanting to be seen. So, normal life continued to elude her despite how far she had come.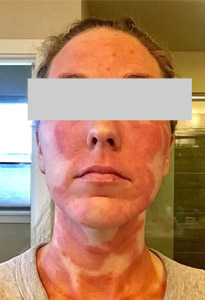 Below is Madison when she started herbal medicine, and after she saw the additional improvements she describes here in her story: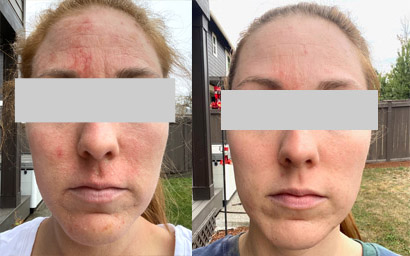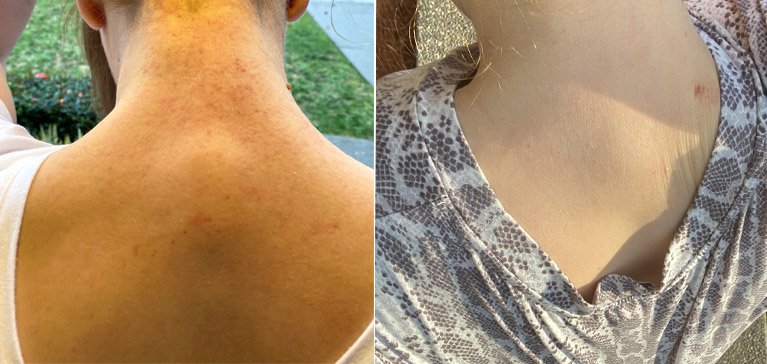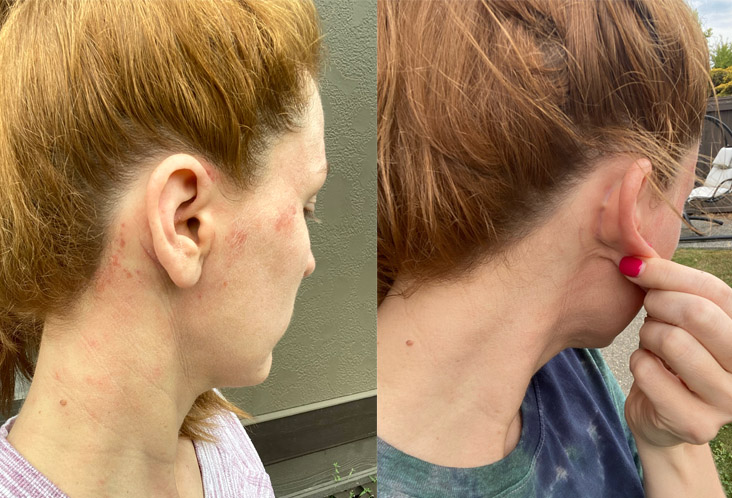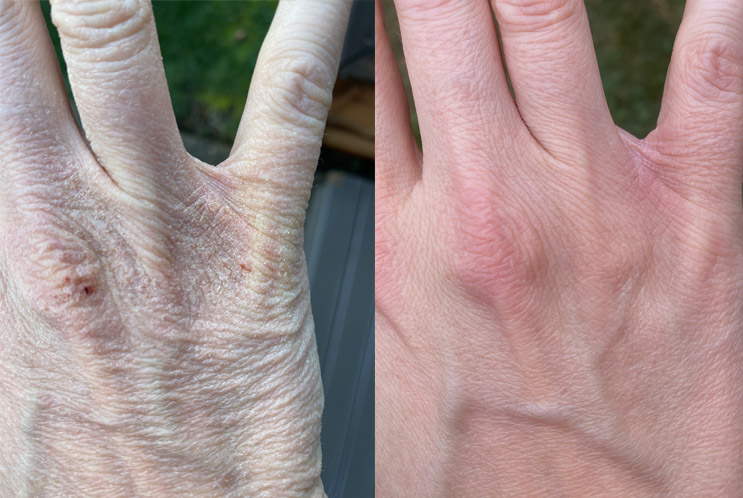 Madison's Healing Journey
"When I started TSW, I went through drastic food allergies and was scared not knowing what I could eat that wouldn't start a flare and intense pain. Over the months of working with Dr. Olivia, many of my food allergies have lifted and I feel more back to normal now," explains Madison
"You have to be patient and dedicated in taking the herbs – but what do you have to lose? They are not great tasting, but it's a small inconvenience compared to the enormity of pain and suffering that accompanies TSW.
"I used apple juice in my routine and drank back and forth between the herbs and apple juice and it was no big deal. I still had flares through the process — that's normal — but the frequency and duration of the flares decreased more and more over time until I didn't have them anymore."
What Madison Says Now
Madison is happy to report: "Using TCM exponentially propelled my healing. I'm 90-95% healed now at 16 months. I have no doubt it would have taken me many more years to heal from TSW had I not had Dr. Olivia's help. I wish everyone going through this terrible condition could have the gift of Olivia's treatment.
"Dr. Olivia truly gave me my life back. It's really difficult going through a condition largely unrecognized by western medicine. Many friends and family members don't understand the severity of what you're going through. To have a doctor that is kind, extremely talented, and can actually support you back to health in a safe way is a gift. I will forever be grateful."
*Madison is a pseudonym used to protect the privacy of the patient, who gave us permission to post her story.
---
Need Help with Eczema or TSW?
If you know someone who suffers from Eczema, TSW, or other stubborn skin conditions, here's a video that describes what an initial consultation is like, and provides more information on the herbal medicine approach to dermatology.
You can also learn more about eczema with our free e-course: "Solving Eczema from the Inside Out."
About the Author
Dr. Olivia Hsu Friedman, LAc, DACM, Cert. TCM Dermatology is the owner of Amethyst Holistic Skin Solutions and treats TSW, eczema, acne, and psoriasis patients via video conferencing using only herbal medicine. Olivia serves on the Advisory Board of LearnSkin, is the Chair of the American Society of Acupuncturists Board of Directors, and is a faculty member of the Chicago Integrative Eczema Support Group sponsored by The National Eczema Association.