The Situation
Ashley*, like many of our patients, had great success with topical steroids – that is, at first.
"In April of 2020, a stress induced flare caused my eczema to go out of control. The topical steroids that I normally used to calm my skin stopped working, so I stopped using them. Days later, the rashes started to spread rapidly, even reaching areas where I have never had eczema, like my face, neck, and chest," says Ashley.
"After researching my symptoms, I came across topical steroid withdrawal (TSW) and it all started to make sense. I went to a dermatologist in search of relief, she was dismissive of TSW but gave me an immunosupressive cream, which I assumed would help since it wasn't a steroid. "After about 2 months of using the cream, it also stopped working, so I stopped using it. My rashes spread all over my body yet again."
The Wrong Approach for Ashley
Frustrated by the failure of prescription creams, Ashley decided to just go without treatment completely, thinking that letting nature run its course might ultimately help her eczema go away. Unfortunately, it didn't work.
"Deciding to go the natural route after stopping all medicated creams, I spent about a year completely miserable and in the greatest amount of pain I've ever felt. I was unable to leave the house, was insanely itchy, and would scratch my skin raw every day because of it.
"I also felt really hot all the time, showers would hurt so much I'd scream, and I couldn't sleep for more than 1 or 2 hours at a time without waking up to scratch. On top of all of that I felt very low mentally and had frequent suicidal ideations. I saw very little change in my condition during this time, but was also unsure and nervous about other healing modalities out there." Unfortunately, depression and other serious mental health problems are often a part of severe eczema and TSW, which is why finding a compassionate health professional, and mental health counseling when necessary, is important on your skin healing journey.
A Better Natural Approach
"After about a year of suffering, I decided to give TCM a try. I spoke to a friend who got great results after suffering for a long time and thought it might be a good fit for me. "My first appointment with Dr. Olivia was way different from anything I've ever experienced with a healthcare professional," Ashley remembers. "I'm used to getting maybe a minute or two of a doctor's time, getting a prescription and going home. After a one-hour first appointment, Dr. Olivia gave me a half-hour of her time at every following appointment, was very thorough in asking me about my symptoms, and listened to all of my concerns. I felt very cared for and heard, and looked forward to our appointments."
Treatment Progress
"After about a few months of herbal formulas I noticed some changes. My body temperature was slowly returning to normal, the ooze on my skin was drying up, the overall redness of my skin was gradually going down, as well as the levels of itchiness and the number of sleep disruptions per night.
"After about 5-6 months is when my skin really started to turn around. After a lot of flaking, my skin was a lot less itchy, showers became a lot less painful, and I felt a lot more like myself again.
Ashley is pleased with her remarkable recovery: "At about 8 months on TCM, I felt well enough to stop taking the formulas entirely! I still have some wrinkled skin around my neck and get a little itchy sometimes, but I am able to sweat, shower, go outside, and wear whatever I want!"
Before and After Photos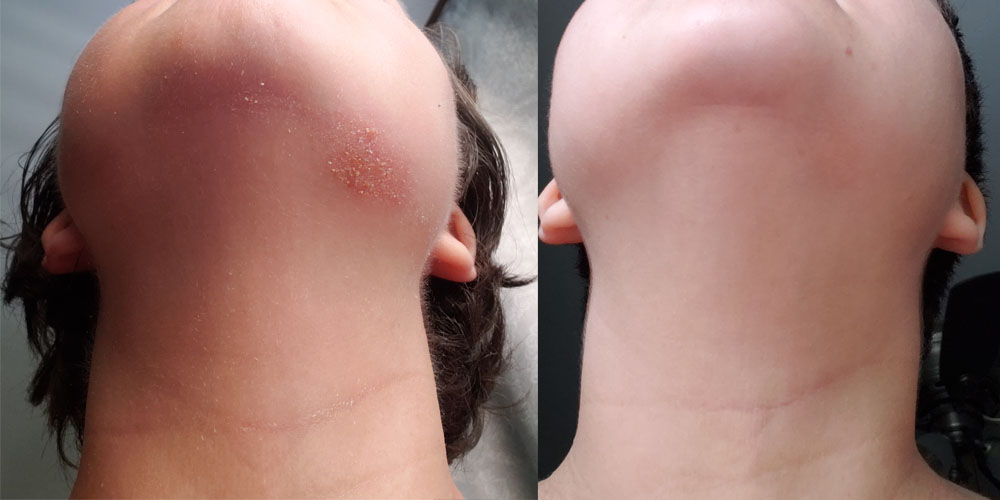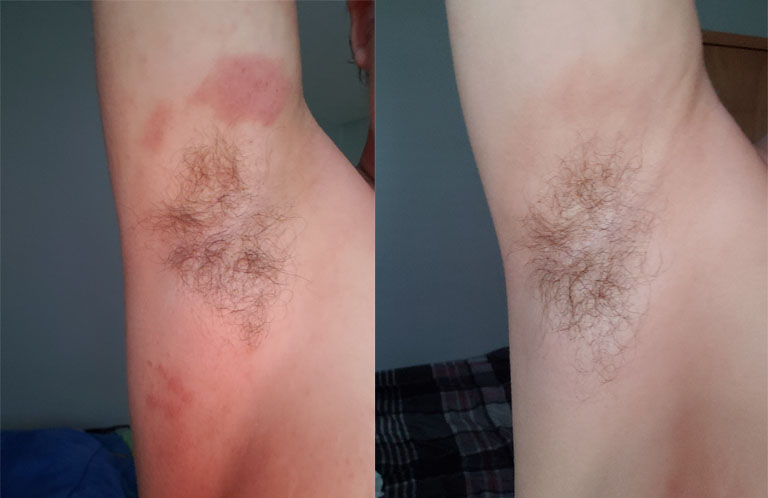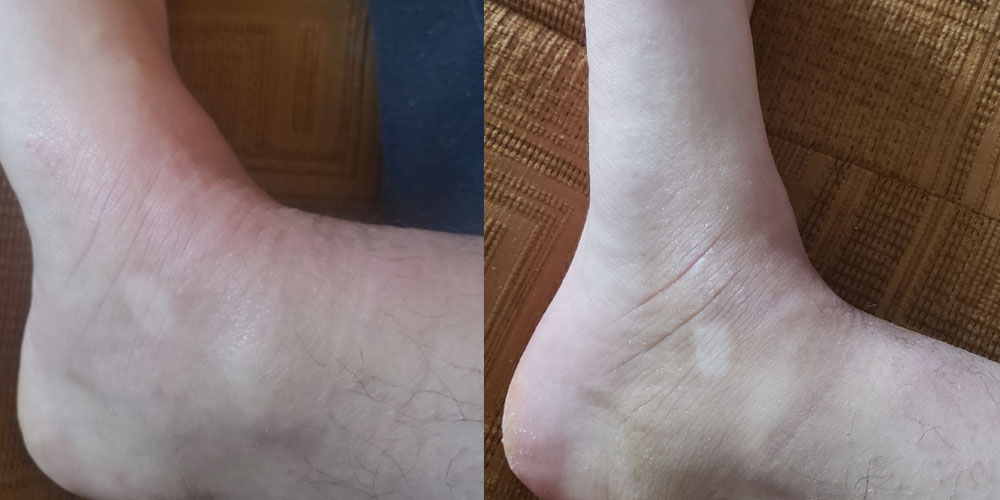 Conclusion
While the time it takes to heal can vary from patient to patient, it is always great to celebrate a patient's recovery.
"I'm so grateful to Olivia, Amethyst Holistic Skin Solutions, and herbal medicine for giving me my life back!" says Ashley. "I would definitely not be where I am without giving TCM a try, and encourage anyone who is struggling with TSW to give it a shot as well!"
*Ashley is a pseudonym used to protect the privacy of the patient, who gave us permission to post her story.
---
Need Help with TSW?
If you know someone who suffers from rosacea, eczema, TSW, or other stubborn skin conditions, here's a video that describes what an initial consultation is like, and provides more information on the herbal medicine approach to dermatology.
You can also learn more about TSW with our free e-course "Taming TSW."
About the Author
Dr. Olivia Hsu Friedman, LAc, DACM, Cert. TCM Dermatology is the owner of Amethyst Holistic Skin Solutions and treats TSW, eczema, acne, and psoriasis patients via video conferencing using only herbal medicine. Olivia serves on the Advisory Board of LearnSkin, is the Chair of the American Society of Acupuncturists Board of Directors, and is a faculty member of the Chicago Integrative Eczema Support Group sponsored by The National Eczema Association.