Often, eczema patients receive topical steroids to treat their skin symptoms, as they can provide quick relief. But unfortunately, some patients have a strong rebound reaction if they stop using the prescribed creams called TSW (topical steroid withdrawal). Since so many TSW symptoms are similar to severe eczema, TSW can be tough to diagnose. Worse yet, if it remains undiagnosed, the patient can continue to receive even more or stronger steroid-based prescriptions to manage the problem. Unfortunately, for such patients, their reaction to steroids prevents any lasting recovery.
That was the case for our patient *Marissa.
Marissa's Story
"I've had eczema since I was a baby and have been treated by a slew of western doctors over the course of 29 years who did nothing but prescribe steroid cream after steroid cream," says Marissa. "We tried other things like elimination diets, Dupixent Ô, bleach baths — the whole gambit. Not one option sought to heal the source of the eczema, only to lessen its effects. This is the fallacy of western medicine from my personal experience."
"After decades of steroid usage, my skin had finally had enough and started exhibiting patterns that were dissimilar to my previous patterns of controllable eczema. I asked my doctors for an explanation, but they told me the same thing: 'It's just contact dermatitis/eczema,' and prescribed the same treatment. Usually their response was: 'We can try this stronger steroid cream / oral steroids / DupixentÔ.' Not one of them told me about TSW, and when I brought it up, they downplayed it as an internet fad and something that was not medically recognized."
Finding Answers from a Former Patient
"I finally came across Dr. Olivia from a TikTok video by Jordan @ctrl.skin and it was the first time I had ever seen my experience of TSW validated. I recognized his symptoms as my own and rushed to Dr. Olivia's website to set up a consultation. Within a month, I had my intake."
"Olivia isn't a therapist, but the difference in care I received from her in contrast to the experiences I had with other doctors may as well have been therapy," reports Marissa. "It was therapeutic just to have someone ask about and listen to me describe my itching, sleeping, eating, digestion, stress, and exercise patterns because it pieced together how my whole system was affected by eczema in a way that hadn't been considered by former doctors."
Herbal Medicine for Healing and Recovery
"I started receiving my vacuum-packed herbal medicine in April 2022 and just finished my last shipment in November 2022. Over the course of 6-7 months, and with the use of topical herbal treatments, my life has completely changed in a way that I didn't think was possible."
"I still use a topical herbal treatment on my problem areas (elbows, knees, neck) when I feel drier, but that's it. I don't even have to use lotion anymore! Where my calves (a non-problematic area) used to have dry/lightly flaky desert-like patches of skin, now I only experience skin that feels like normal, moisturized skin. In my historically problematic areas, I find myself itching absent-mindedly out of habit, but the itchiness doesn't have the same satisfying effect–because it's not itchy! For the first time, I can trust my skin/body to be self-sufficient and what I can only describe as self-moisturizing. It's an amazing feeling."
Before and After Photos (8 months)
When Marissa had her first appointment with Dr. Olivia, most of her TSW symptoms had subsided, but she was still suffering from her lifelong eczema symptoms. Within 8 months, she achieved amazing results that revealed her beautiful, natural skin.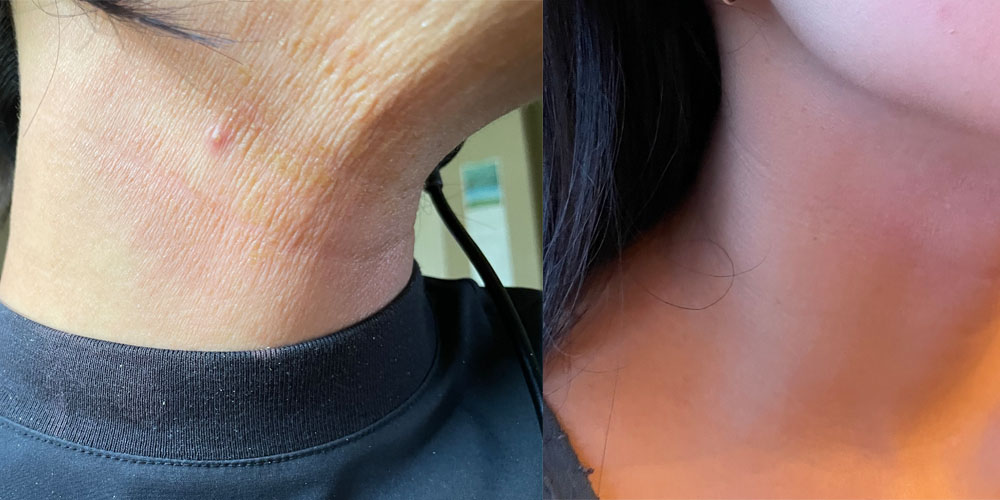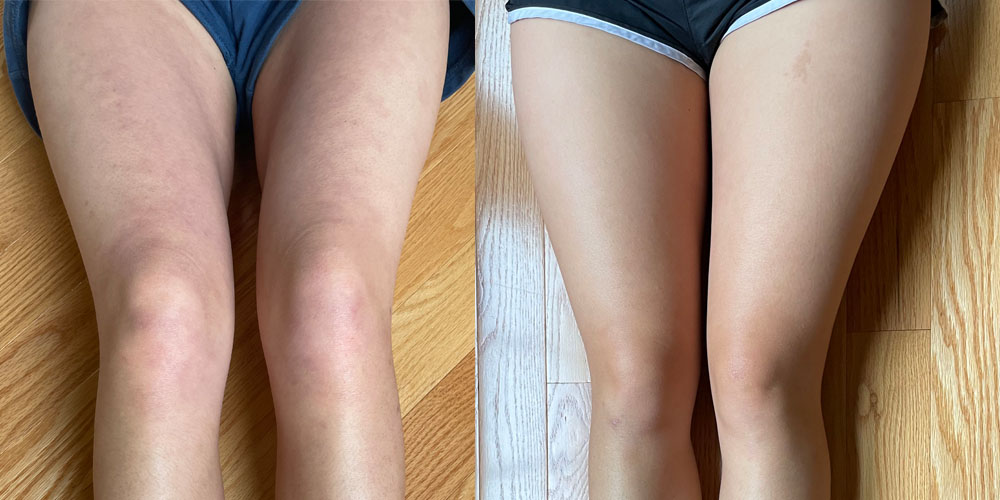 Where is Marissa Now?
"I'm writing this from my first vacation in Florida where I've been able to enjoy the pool/beach every day without worry," exclaims Marissa. "In the past when I traveled to warm climates, I would allocate one day to be outside and the rest of the week would be spent inside recovering and treating my skin from my 'guilty pleasure' day.'
"I've already recommended Dr. Olivia to so many of my friends, and really want anyone who's had a similar experience as me to know that eczema can be treated. My life without thinking about eczema is endlessly better, not only physically, but mentally and emotionally."
When Benefits Outweigh the Cost
Many people wonder if trying herbal medicine is worth the time and expense. With such amazing improvement in her condition in just 8 months, Marissa unequivocally says "Yes!"
"Even though Dr. Olivia's fees aren't covered by my insurance, my parents and I have undoubtedly spent thousands more on Western medicine and steroids without the expectation that it would even heal me. If I'm going to spend money on my health, why not spend it on something that might actually fix my skin?"
*Marissa is a pseudonym to protect this patient's privacy
---
Want to Learn More About Eczema?
Dr. Olivia offers a free e-course called "Solving Eczema Inside and Out" and other resources for those suffering from eczema and topical steroid withdrawal. Also, check our media section for interviews and more articles on TSW.
About the Author
Olivia Hsu Friedman, LAc, Dipl.OM, DACM, Cert. TCMDerm, is the owner of Amethyst Holistic Skin Solutions and treats Acne, Eczema, Psoriasis, and TSW. Olivia treats patients via video conferencing using only herbal medicine. Olivia is Chair of the Board of Directors of the American Society of Acupuncturists, serves on the Advisory Board of LearnSkin, and is a faculty member of the Chicago Integrative Eczema Group sponsored by the National Eczema Association.