Spring is when one of the potent herbs in traditional Chinese medicine begins to bloom. You may even have a version of this plant in your backyard. We're talking about the big, beautiful, flamboyant peony.
Specific parts of the peony plant are harvested and dried for use in TCM herbal medicine formulas. Each type has a specific use and a slightly different effect on internal organ systems and circulation. Each is also harvested at a specific time of the year to increase or decrease its medicinal effect. For example, most peony roots are harvested in the autumn, after they've had a whole summer to grow and nourish the plant.
Not all Peony Herbs Are the Same
Since all of the peony herbal derivatives are anti-inflammatory and cooling, they come up often in herbal medicines for skin conditions. You will often see various peony root preparations used in TCM dermatology formulas to treat eczema, TSW, rosacea, and psoriasis.
Knowing which peony preparation to choose for any particular patient is a valuable skill that a trained TCM dermatologist studies. Here's how it works:
A TCM dermatologist typically takes a comprehensive medical history to discern which herbs are the right ones and how much of each is the right dosage. The herbs we choose are based on the pattern of eczema, the severity, as well as other health conditions the patient has. For example, in TCM, there are actually 7 patterns of eczema, each requiring a different method to treat the varying root causes and thus, the resulting symptomology.
We look at the condition and color of the patient's tongue. We also consider when, how, and where on the body flare-ups occur, since some herbs work better on certain areas of the body than others. Each clue factors into which herbs we choose for a particular patient's treatment plan. Each specific herbal formula achieves a specific goal.
TCM – The Language of an Ancient Healing Art
Traditional Chinese medical terminology evolved thousands of years before modern medical terminology. The ancient art describes herbs by their taste or temperature. These tastes and temperatures can influence the direction of how the remedy moves through the body. For example, bitter, like coffee, moves things downward. Sour, like vinegar, astringes and moves things inward. These terms have powerful meanings to an herbal doctor.
Also, the TCM medical system is based upon how energy circulates through the body thru various pathways called meridians that are associated with specific organs. These organ names are not necessarily representative of how we understand them today. The Chinese viewed the liver, heart, gallbladder, etc. a bit differently than we do. So if a Chinese medical doctor says you have a problem with your liver meridian, it most likely means something very different than a western diagnosis of liver disease. In their unique way of looking at internal health, TCM sees imbalances in these organ systems as part of the root cause of disease.
Now let's take a look at how the peony impacts the body and skin.
Chi Shao – Red Peony Root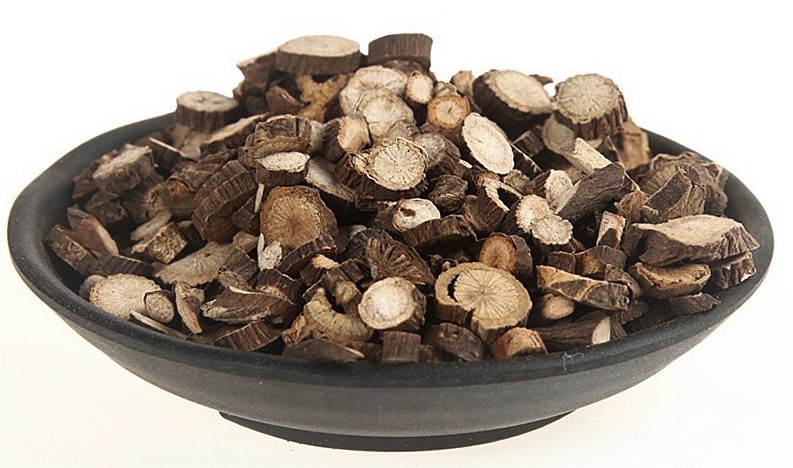 The botanical name of this root is Radix Paeoniae Rubra. As the Chinese say, it clears heat, clears liver fire, and cools the blood. In modern terms, we would say it reduces inflammation and does this particularly well in the Liver meridian system which is a pathway that links the backs of ears, to the eyes, down the flanks of the chest thru the genitals to the distal lower legs. The Chinese also say, it invigorates the blood, reducing stagnation which in modern terms means it promotes circulation, which in turn helps to reduce inflammation and associated pain. Chi Shao is considered a "cold" and "bitter" herb in TCM. In this case, the bitter nature of the herb causes heat to move out of the body by moving it downward.
The cooling nature of Chi Shao makes it useful in cases of eczema, TSW, psoriasis, and acne that are heat-based or very highly inflamed.
Bai Shao – White Peony Root
The botanical name of this root is Radix Paeoniae Alba. It nourishes the blood, calms liver wind and liver yang, balances yang and wei, regulates menstruation, and dries up excessive yin. In modern terms, it helps to supply vital nutrients and minerals to the blood. As we learned earlier, the Liver meridian runs thru the genitals, so it makes sense that this herb impacts menstruation. Interestingly, the Liver in TCM also controls tendons, therefore, calming liver wind includes reducing symptoms like spasms, tingling, or numbness of the limbs, even loss of balance. Balancing the yang relates to its analgesic and sedative effects which help to reduce anxiety, restlessness, insomnia, and pain.
"Regulating wei" means fortifying the immune system, and "excessive yin" in dermatological terms relates to swelling or weeping lesions. As you can see, there are many reasons we would use Bai Shao in dermatology!
Studies show that Bai Shao's anti-inflammatory action is due to its ability to inhibit proinflammatory cytokines. It also induces the production of antioxidants and is traditionally thought to improve skin elasticity.
Bai Shao is less "cold" than Chi Shao, but it is also "bitter." Small discrepancies like this help a TCM dermatologist know when to choose which herb to match with a patient's particular pattern of eczema or other inflammatory skin condition.
Mu Dan Pi – Peony Root Bark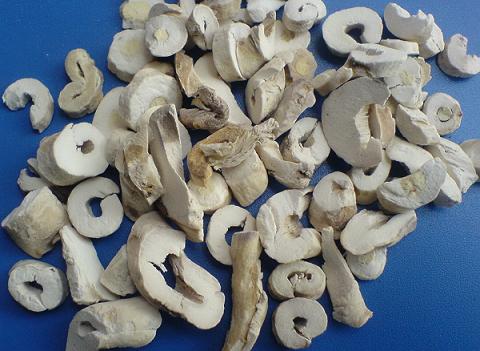 Also called Cordex Moutan, is the peeled root bark of the Paeonia Suffruticosa. It is often used to treat inflammation and allergies. It clears heat from the blood and nutrient system (meaning it addresses a much deeper level of heat in the body often associated with extreme erythema), activates the blood, removes blood stagnation (or promotes circulation), and drains pus and reduces swelling. Mu Dan Pi is "cool" and "bitter."
In dermatology, it is often combined with Chi Shao to address widespread maculopapular skin rashes occurring in conditions like eczema, psoriasis, rosacea, and acne. Because the herb also travels along the Liver Meridian, it is also great for headaches, eye pain, flank pain, flushing, and dysmenorrhea.
Contraindications
Any part of the peony plant contains phytochemicals that may slow blood clotting. That's why these herbs are contraindicated for people with bleeding disorders, those who are on blood thinners – including aspirin, and before or after surgery. They also may induce uterine contractions, so they are also contraindicated when pregnant or nursing. Tell your practitioner if you have any liver disorders, as prolonged use of herbs in the peony family may be contraindicated in your case.
Conclusion
Now that you know how useful and powerful the peony can be for dermatological conditions, we hope you will have a whole new appreciation for this beautiful flower as you enjoy them this spring!
Note: Remember that in TCM, a trained practitioner can accurately diagnose and make well-considered herb choices and combinations to address the specific and unique condition of each individual. They are also well-versed in any contraindication of each herb. For these reasons, self-diagnosing and self-prescribing Chinese herbs for medical conditions without such expertise is not advised.
---
Want to Learn More About Skin Health?
Click HERE to get the Amethyst Holistic Skin Solutions Newsletter. You'll receive interesting information about skin health via articles, before/after pictures, case studies of Amethyst patients, videos, interviews and more. Feel free to share this article with someone who you think may benefit.
About the Author
Olivia Hsu Friedman, LAc, Dipl.OM, DACM, Cert. TCMDerm, is the owner of Amethyst Holistic Skin Solutions and treats Acne, Eczema, Psoriasis, and TSW. Olivia treats patients via video conferencing using only herbal medicine. Olivia is Chair of the Board of Directors of the American Society of Acupuncturists, serves on the Advisory Board of LearnSkin, and is a faculty member of the Chicago Integrative Eczema Group sponsored by the National Eczema Association.