Good News from Amethyst Holistic Skin Solutions!
It's been a busy few months here at Amethyst and now we have three announcements to share.
Is there a DOCTOR in the house?
Why yes, there is! This summer, I completed a doctorate degree at Pacific College of Oriental Medicine. Now, in addition to my Master's Degree in Oriental Medicine and Certification in Traditional Chinese Medicine Dermatology, I am officially a Doctor of Acupuncture and Chinese Medicine.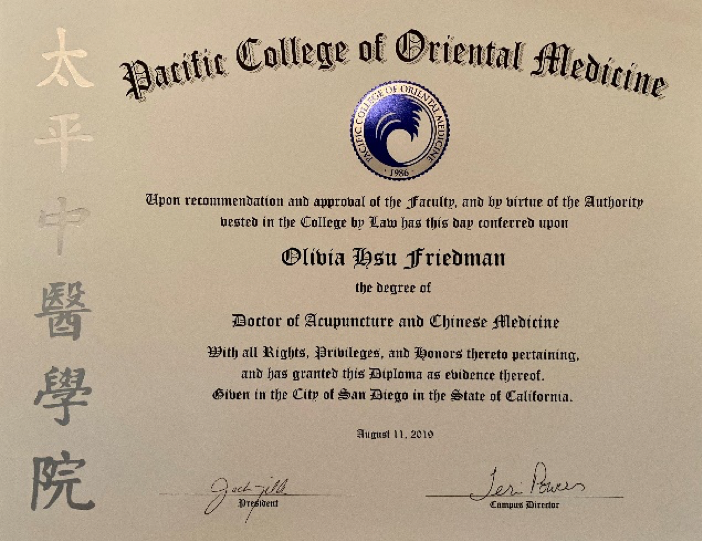 A New BOARD MEMBER
The American Society of Acupuncturists, the national association representing all practitioners of acupuncture and herbal medicine, officially elected me to the post of Board Member at Large. I'm honored to serve and look forward to promoting the profession, both nationally and internationally.

A SPEAKING Opp
In October, I'll be moderating a panel discussion at the Integrative Dermatology Symposium in San Diego, CA. I'm hoping to show how practitioners of all disciplines (MD's, Naturopaths, Ayurvedic and TCM practitioners) can find each other and work together to benefit their dermatology patients.
About the Author
Dr. Olivia Hsu Friedman, LAc, Dipl. OM, DACM is the owner of Amethyst Holistic Skin Solutions and treats dermatology patients throughout the US in person and via video conferencing using only herbal medicine.  Outside of the office, Olivia serves as the Board Member-at-Large of the American Society of Acupuncturists and is on the Advisory Board of LearnSkin.