What is it?
Jenny* suffered from nummular eczema, also known as nummular dermatitis or discoid eczema. This specific form of eczema is a chronic condition that causes coin-shaped spots to develop on the skin. These spots are itchy, usually well-defined, and may ooze clear fluid or become dry and crusty.
Nummular eczema often appears after a skin injury, such as a burn, abrasion, or insect bite, and may result in one patch or multiple patches of coin-shaped lesions that can last for several months.
Here's Jenny's story in her own words:
Before/After Photos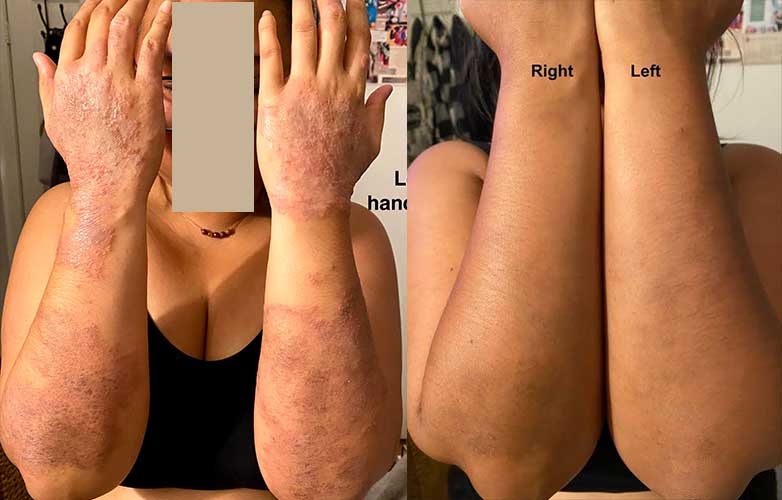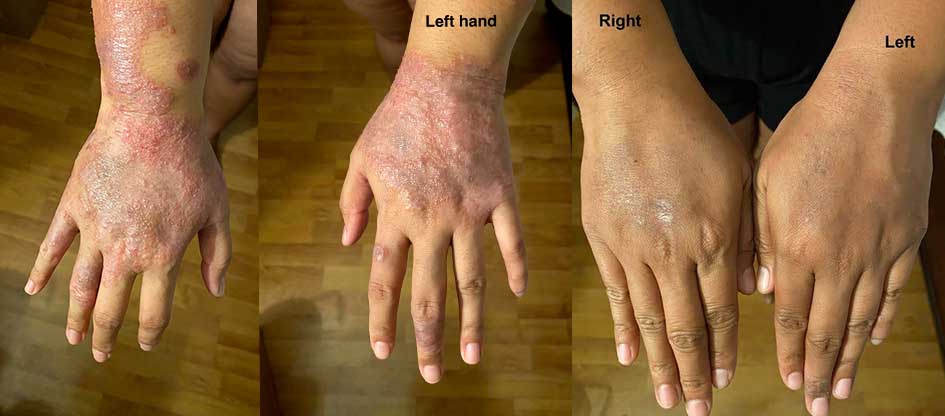 Jenny's Situation
"I did not always have eczema. It came about during the past 10-12 years. Steroid creams, treatments from natural popular brands, changing my diet, were not working. I did all that was suggested online by people suffering from eczema, and by my doctors. I did not understand why I was not getting better, or when my skin did show improvement, why the flares continued to happen.
I had all the symptoms of eczema. I was itchy, I was dry, I had blisters that popped open that became sores. The itching was intense – both day and night. I was not sleeping well because I would wake up in the middle of the night to scratch. Sometimes I would scratch so much that I would bleed. The worst part was scratching at night when I was unaware of what I was doing and waking up in the morning to find that my sheets were bloody and or wet from the moisture or popping the blisters. The parts of my skin that were "healed" would thicken and appear dark, almost like cracked leather. It was bad. I was desperate and incredibly uncomfortable. It was not getting any better and as every day progressed, more and more of my skin was blistering away.
It was difficult for me to have a social life and live day-to-day with my condition. I did not know how to take care of myself. I was constantly worried that because my skin was exposed, anything and everything could cause infection. Soaps, shampoo, dishwashing liquid, cleaning detergents… everything.
At this time – during COVID, I was worried that because my skin was incredibly tender and exposed, I could really get sick. I wore cotton gloves daily, spent lots of money on gauze rolls and wraps, I wore socks, long-sleeved shirts, and pants every day. I did not feel safe in my skin, and I could not imagine seeing anyone or having a social life. I did not want to work out of fear that someone would see my skin and recoil away from me thinking I had a contagious disease. Much worse was the idea of going to the store to buy groceries. I was living with anxiety, fear, and in seclusion. I was miserable."
Jenny's Treatment
"Western medicine recommended steroids, but I knew that was a temporary fix and not good for my overall health and well-being. I found Dr. Olivia through an eczema website that referenced an article that she wrote. I continued to search online, and her name kept popping up. I reached out to her and booked an appointment right away.
From the start, Dr. Olivia asked many questions to get to the root of the problem. Sleep, bowel movements, sweating –I knew these were all factors, but how they contributed to my skin was fascinating to me. I knew immediately I was in good hands. She is incredibly and undeniably knowledgeable and empathetic. Having someone say to me that they understand from experience the magnitude of how uncomfortable and painful my condition was helped to normalize my feelings and attitude.
The treatment consisted of herbs and herbal creams. The herbs didn't taste great at first, but over time, my tastebuds adjusted. Seeing the progress of my skin, and the change in my sleep, and bowel movements were proof that taking the herbs first thing in the morning and right before bed were more than worth it."
Healing on Many Levels
"During my follow-up meetings with Dr. Olivia, and in sending her the pictures of the changes in my skin, I started to feel shifts in my attitude. My despondency shifted into hopefulness. I was not compromising my health by applying or ingesting chemicals.
As my skin healed, so did my well-being. I am no longer worried about how long I am in the shower. I can wear weather-appropriate clothes. I am not spending money on gauze or cotton gloves. I have restful sleep throughout the night, and my bowel movements have normalized. I can't wait to get back to the pool or ocean to swim because I can finally wear a bathing suit, and I'm not worried about the external factors that could possibly aggravate and/or cause infection.
There is so much more to this experience than the external factor of healing my skin. I am comfortable in my skin because it is doing its job of protecting me. Because I feel comfortable and protected, there is a shift in my lifestyle and outlook on life. Shame started to fall away. I am not afraid to show my face or show up in family gatherings. It's been such a profound journey for me."
Jenny's Advice
"My time with Dr. Olivia has been profound, even more so than what the before and after pictures here show. These months of treatment and healing have not only changed my skin, but my confidence, my comfort levels, and my ease in day-to-day living. With Dr. Olivia, I have been shown respect and care. I'm forever grateful to her for her knowledge and in turn, my good health. If you are on the fence about reaching out to her for your own healing with your skin conditions, I urge you to not wait."
*Jenny is a pseudonym used to protect the privacy of the patient, who gave us permission to post her story.
---
Need Help with Eczema?
If you are looking for answers to eczema for yourself or a loved one, here's a video that describes what an initial consultation is like, and provides more information on the herbal medicine approach to dermatology.
Want to Learn More?
Click Here for our free e-course "Healing Eczema Inside and Out," and you will also receive our Amethyst Holistic Skin Solutions Newsletter. Both will give you interesting information about Traditional Chinese Medicine (TCM) and eczema via articles, before/after pictures, case studies of Amethyst Eczema patients. Feel free to click the icons below to share this article with someone who may benefit.
About the Author
Dr. Olivia Hsu Friedman, LAc, DACM, Cert. TCM Dermatology is the owner of Amethyst Holistic Skin Solutions and treats eczema patients via video conferencing using only herbal medicine. Olivia serves on the Advisory Board of LearnSkin, is the Chair of the American Society of Acupuncturists Board of Directors, and is a faculty member of the Chicago Integrative Eczema Support Group sponsored by The National Eczema Association.