Case Study: Teenage Cystic Acne
SITUATION
Jennifer began getting cystic acne breakouts on her face and back when she turned 14 years old. Her family preferred using natural methods to heal but everything she tried from Whole Foods and online companies, did not help. As an actress and singer, she was always in the limelight. But that also meant her acne was, too.
TREATMENT
Jennifer and I first met in the Amethyst Chicago office when she was 15.  Her busy schedule of choir and musical rehearsals made video conferencing during her lunch hour at school an obvious choice.  We started with herbal vacuum-packed herbs 2x's daily and a regiment of daytime and nighttime topicals to treat the skin from both inside and out.  Jennifer was extremely diligent taking the herbs but had a lot of emotional highs and lows during the treatment period that caused her acne to fluctuate.  We had to change formulas frequently to address the changes.
BEFORE/AFTER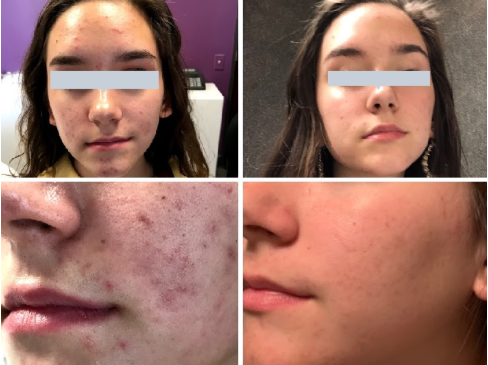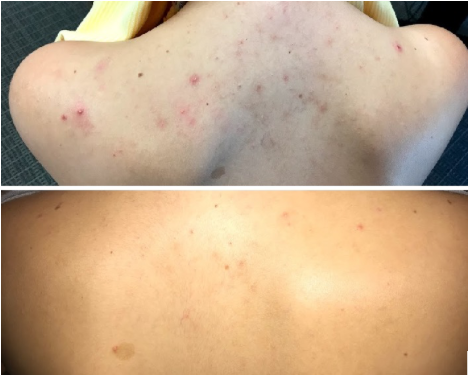 As you can see, Jennifer's skin is completely changed.  Her skin remains stable and she no longer uses internal herbs.  Occasionally, she uses topicals to spot treat when unusual circumstances occur like weeks of wearing heavy make-up due to her musical appearances.  But beside that, Jennifer is happy to report, it's her voice and acting that now take centerstage! 
* Jennifer is a pseudonym to protect patient privacy
* Everyone's healing timeline depends on their unique combination of contributing factors. 
HOW TO GET HELP
If you know someone who would like to heal their acne, Amethyst Holistic Skin Solutions offers complimentary consultations to anyone interested in learning more about herbal dermatology solutions.  We help acne patients all over the US, in-person in our Chicago office or via video conference.
About Olivia
Dr. Olivia Hsu Friedman, DACM, LAc, Cert. TCM Dermatology, is the owner of Amethyst Holistic Skin Solutions and treats eczema, TSW, psoriasis, and acne patients throughout the US in person and via video conferencing using only herbal medicine. Olivia earned a Doctorate in Acupuncture and Chinese Medicine as well as a diploma in Traditional Chinese Medicine Dermatology. Outside of the office, Olivia serves on the Board of Directors of the American Society of Acupuncturists, the Advisory Board of LearnSkin and the faculty of the Chicago Integrative Eczema Support Group sponsored by the National Eczema Association.